Founders on democracy
You are browsing the archives of "Founders on democracy."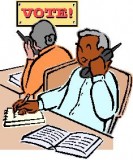 We are witnessing the tyranny not of the majority but instead of the majority of voters coming to fruition. In America in a typical election, only 50% or less of eligible voters bothers to cast their ballot. Many congressional districts are gerrymandered into personal possessions, local counties, cities and states belong to good-old-boy networks and the Senate is the province of millionaire media stars. The uninformed elect the unqualified to give them what is unearned.