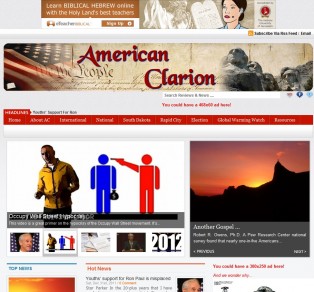 As the Good Lord has told us, there is a season for everything, and a time for every matter under heaven.
As the "About" page says, Dakota Voice, LLC began in 2005 as a print newspaper covering issues of interest primarily to conservatives and Christians.  The focus at that time was primarily on events and issues within South Dakota, but there was always an eye to national and international events that were of concern to South Dakotans as well as so many other people.
Over time, the time and expense of publishing and distributing a print newspaper became prohibitive, and Dakota Voice became exclusively online, and concentrated more on national issues.
Dakota Voice, operating from www.dakotavoice.com, has published more than 10,000 articles over the past seven years with readers from around the world. That's not bad for a "one horse operation" with a handful of writers.
But there is a time and season for everything, and the time for DakotaVoice.com is drawing to a close.  It's time for American Clarion to take hold of the torch and run forward into the future.
As the new flagship of Dakota Voice, LLC, AmericanClarion.com will have a fresh look, fresh layout, fresh organization,  with some fresh emphases.  The new name will reflect our commitment to being a strong and clear voice for American values–and for America herself–as well as our focus on the challenges and opportunities facing America.
We will continue to monitor and report on issues from the Rapid City HQ, as well as things going on across the state of South Dakota that conservatives and Christians care about.  The structure of the new website will feature four basic category areas: Rapid City, South Dakota, National, and International. There may also be special sections going forward, such as the "Upcoming Election" section already in place. These sections will allow readers to more easily hone in on their area of primary interest, while still being able to survey our entire offerings with ease.
Our articles come from a variety of sources.  Some are from syndicated columnists that you'll recognize from across the nation, while others are exclusively published at American Clarion by writers from all over our country. Still others come to us via various newswire services within South Dakota and nationally.
Speaking of writers, we're also looking for conservatives and Christian writers who would like to help us be the best clarion possible for American freedom and values.  Writing experience is nice, but a passion for our kind of values and a desire to serve up truth in the public square is the most important qualification, so if you think you might like to do some writing at American Clarion, drop us an email at [email protected].  We're looking for writers on local Rapid City issues, South Dakota happenings, national and international current events.  You can be a topical writer (concentrating on things like homeschooling, education reform, Christian living, culture, youth, election issues, or whatever trips your trigger as long as it's within the realm of what you're not supposed to talk about at parties–politics or religion), and you can write as much (daily or even several times a day) or as little (once a week, once every two weeks, once a month, or just whenever you have a fire in your belly about something that you can't put out without writing about it). We reserve the right to negotiate an edit of a submission, or reject a submission outright if it runs too far askance from our standards–but we don't require lockstep agreement (80% or 90% is close enough).  If you're interested, let us know!
We'll continue to feature fun and informative political cartoons from great groups like Americans for Limited Government and the Patriot Post.
You'll also see more featured videos in our sidebar–videos we think you may enjoy, or that may provide information you need to know about (information you won't hear from the "mainstream" media).
Also in our sidebar you'll find recommended reading from a variety of news outlets, commentaries, and featured blog posts from some of the best political blogs in South Dakota and across America.
We'll also feature a list of "Recommended Resources" ranging from important publications we should all be familiar with or have close at hand (the Declaration of Independence, the U.S. Constitution, the Federalist Papers, etc.) as well as important policy organizations that we sometimes partner with or receive information from or both.
American Clarion is available in a variety of manifestations across cyberspace, too. You can receive updates from AmericanClarion.com in your favorite RSS reader via our RSS feed, or receive a daily digest of our articles through your email. In addition to the home platform at AmericanClarion.com, we have a Facebook feed where our articles will also be posted along with other quick-hit items from a variety of other sources of interest. We also have a Twitter feed, as well as a YouTube channel where our future exclusive video content will be housed. Look for mobile apps for your Android, iPhone and iPad in the near future.  And if you are a business or organization who would like access to thousands of viewers a day to promote yourself, there are ad slots available that are just waiting for your ad.
In the coming year, we'll be watching a number issues closely.  We'll be monitoring the freshly hot conflict between South Dakota Republicans who are concerned about the party's Leftward drift, and more liberal "Republicans" who seem to be contemptuous of Republican values and platforms.  The hotly-contested GOP presidential primary will likely hold our attention for many weeks if not months to come, as we see a similar battle played out in the national GOP between real Republicans and those who want to play Democrat-lite. Internationally, world events may hold some interesting developments, from the recent withdrawal from Iraq, to the slow drawdown in Afghanistan, to what may happen with Israel and a nearly-nuclear terror-supporting Iran.
It will require great agility to keep up with such a busy year and a clouded future, but by the grace of God, our new flagship American Clarion will be ready to serve as the watchman we have been called to be, and continue to demolish the pernicious lie everywhere it is found so that our readers will not be taken captive by slickly-packaged deception.