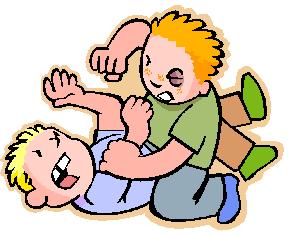 It seems the Left, along with a few naïve individuals on the Right, are making their perennial push for yet another vehicle to normalize and protect homosexual behavior in the public schools.
In typical breathless tones, complete with "informative" sidebars, the Rapid City Journal tells us that (gasp) South Dakota is the only state without an anti-bullying law.
Since 1999, 46 states have passed a total of 120 laws regulating bullying.

Not one of those was passed in South Dakota.

A new report from the U.S. Department of Education identified South Dakota as the only state in the country that doesn't have either legislation or statewide policy dealing with bullying, an increasingly prominent issue.
Wow. You mean teachers in schools all across South Dakota currently have to stand idly by with their hands in their pockets when one student bullies another student?
How stupid do these "journalists" think we are?
There always have been bullies, and there always will be bullies.  It's an unfortunate part of the fallen condition of humanity.  There were bullies when I was a kid and there are bullies now. Bullies bully for everything you could possibly imagine that makes a seemingly vulnerable student appear different from the herd: too fat, too thin, too tall, too short, a tomboy, a sissy, wears glasses, too rich, too poor, too smart, too dumb, walks funny, talks funny, you name it and it's bully-fodder. From everything that I knew, teachers already understood, without the need for a state law, that it was their job to stop bullies from mistreating other children, and they had the authority to do so.  Are we now saying that teachers are incapable of disciplining unruly children without the backing of a state law?
In truth, homosexual activists have for a number of years now been very successfully using "anti-bullying" laws as a vehicle to lend an air of legitimacy to homosexual behavior and inclinations among school children, and to silence anyone who might dare tell such children that this is a dangerous and immoral behavior.  In Rapid City as in many other school districts around the country, officials have used nondiscrimination policies to elevate homosexual behavior to a protected class akin to innate, morally neutral physical characteristics such as sex and skin color.  "Anti-bullying" initiatives go hand in hand with such measures.
Only a few months ago, "anti-bullying" measures were used to silence and punish a student in Texas for having the audacity to tell another student he believed homosexual behavior to be immoral. A teacher who had been promoting the legitimacy of homosexual behavior to his students and who had hanged a picture of two men kissing on the wall of his classroom found student Dakota Ary's statement during a class discussion of homosexual behavior intolerable, and Ary was suspended for three days.  The school later apologized after Liberty Counsel came to the defense of this student's rights, but Ary never should have been bullied into such punishment in the first place.
And that is really what anti-bullying initiatives are all about these days. As I said and as everyone knows, bullying is nothing new, and school officials have long, long had the authority to deal with bullying.  The modern "anti-bullying" movement isn't so much about stopping bullying as it is about bullying Christians and others who know that homosexual behavior is immoral and unhealthy from saying so publicly. These bullies insist that young, often confused children be allowed to damage and destroy their lives without being exposed to any negative information about this practice.
If we're really concerned about bullying, we'll leave local educators alone and let them continue doing their job of protecting every student from harassment of every kind.  We don't need to jerk our knee and make a law for something when there are already more than adequate tools in place for dealing with it. And we don't need to empower homosexual activist bullies into being able to further silence the truth about a dangerous and destructive sexual practice.