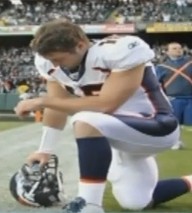 Even if you couldn't care less about football (which comes close to how little it means to me), you would still have to be very insulated from the flow of American life to have missed the recent controversy over Christian football player Tim Tebow and his open display of his faith.
You may remember last year when a very mildly pro-life ad featuring Tebow and his mother had the pro-aborts foaming at the mouth. The hysteria from the guardians of pop-culture shallowness continues.
In a world where academia, the "mainstream" media and other elites have made it clear to the herd that religious beliefs have no place in the "real world," it can be shocking to some to see a Christian who (duh!) takes his faith seriously enough to let it pervade every area of his life.
This clip of CBS sportscaster Gregg Doyel did a masterful job of putting this hysterical nonsense in perspective:
"If Tebow had more class he'd just kill dogs or get drunk and run over somebody and maybe end their life."
He further says that many people don't understand people like Tim Tebow and why anyone would want to live like that. He's right: in a culture that has deliberately attempted to erase its Christian roots, many people are indeed out of touch with a mindset that takes matters of life and death and eternity seriously (stop and think about what I just said for a moment).
Doyel also alludes to another important truth and hypocrisy of pop culture when he said that rather than live a life of discipline, responsibility and moral uprightness, many people would rather embrace a hedonistic, self-centered and often self-destructive lifestyle.
The irony he exposes here is modern pop-culture's knee-jerk habit of demanding tolerance and acceptance of every immoral and destructive behavior someone might want to engage in…while simultaneously mocking, ridiculing, vilifying and condemning anyone who chooses the high road of moral behavior.
We used to see this kind of upside-down hypocrisy sometimes in children..but the grownups usually came along and corrected it. Unfortunately, now it's the grownups who are living it and teaching it to the next generation of children.
We're cruising for a bruising when we take such a hypocritical, upside-down approach to life.  It's so bad that even someone like Gregg Doyel, not known as a paragon of virtue, can see it clearly.