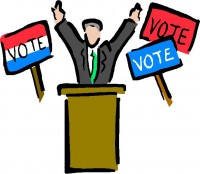 FOR IMMEDIATE RELEASE
December 1, 2011
FOR ADDITIONAL INFORMATION
Contact: Jason M. Gant (605) 773-3537
"This is the most significant development in campaign finance for SD in over a decade"
Today, Secretary of State Jason Gant unveiled his upgrade to South Dakota's campaign finance reporting system to all of South Dakota, taking the system live less than a year after taking office.
"This is an exciting day for the State of South Dakota," Gant said. "For a decade, South Dakota was ranked among the worst states in the nation when it came to campaign finance disclosure, consistently earning "F" grades. With our new system providing access with searchable fields, it's a great day for open government and transparency in South Dakota."
The on-line ledger system for candidates, known as the Campaign Accounting Statement History system, or C.A.S.H. system for short, allows candidates to track their campaign receipts and expenditures on-line as an accounting ledger. "When the candidate is ready to submit their report, they simply hit a button which will automatically populate fields in their report," Gant said.
With data being entered by candidates on-line, the public, for the first time have the ability to directly search donors and expenditures, as opposed to the old system which only provided access to imaged paper documents.
Gant recently demonstrated the system to legislators, as well as members of the media and the public in Rapid City and Sioux Falls. "We added the suggested changes from those meetings, and were able to finish the system."
"C.A.S.H. will make it far easier for the public to see who is giving to candidates, as well as where they are spending their campaign dollars. The same applies for Political Action Committees (PAC's) and political parties," Gant said.
"2011 year-end reports are due for all candidates, political parties, political action committees by February 1, 2012," Gant said.