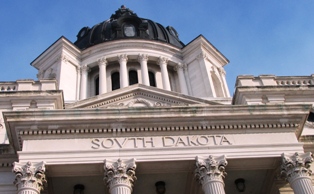 The Life and Liberty Group in Rapid City sponsored a Pre-Session Legislative Forum Tuesday evening.
During the gathering, a Republican Legislator Voting Scorecard, prepared by the Life and Liberty Group, was released.  The scorecard examined the votes of South Dakota's state senators and representatives on several votes in the last legislative session:
HB 1133: "The Home School Bill" (A bill to revise certain provisions relating to the excusal of a child from school.)

HB 1192: "The Registration/Fee Increase Bill" (A bill to increase certain registration fees for the use of motor vehicles on the public highways.)

HB 1217: "The Pro-Life Consent Bill" (A bill to establish certain legislative findings pertaining to the decision of a pregnant mother considering termination of her relationship with her child by an abortion, to establish certain procedures to better insure that such decisions are voluntary, uncoerced, and informed, and to revise certain causes of action for professional negligence relating to performance of an abortion.)

HB 1248: "The Extension of Sales Tax Sunset Bill" (A bill to extend the sunset of the one-half percent increase in the gross receipts tax imposed on visitor-related businesses.)

SB 65: "The Private School Bill" (A bill to allow nonpublic schools accredited by certain accrediting agencies other than the Department of Education to become members of the South Dakota High School Activities Association.)

SB 89: "The Street Assessment Bill" (A bill to clarify a municipality's ability to assess a fee for street maintenance.)

SB104: "The Bullying Bill" (A bill to require each school district to develop a policy to prohibit bullying that meets certain requirements.)

SB 161: "The Discrimination Bill" (A bill to prohibit certain unfair or discriminatory practices based on veteran or military status.)

SB 176: "The Human Trafficking Bill" (A bill to provide for the crime of human trafficking, to establish the elements and degrees of the crime, and to provide penalties for the violation thereof.)
In recent months, conservative groups around the state have released several scorecards which reveal many "Republicans" in the state legislature don't vote very Republican.
First was the South Dakota Freedom Index which looked at issues primarily from the perspective or advancing or limiting freedom.
Then there was the Republican Platform Scorecard which examined how legislators voted on issues that related to specific planks of the South Dakota GOP Platform.
The Republican Party has massive majorities in both houses of the legislature.  Yet last year, many pieces of legislature that are "textbook Republican" could not get passed–many did not even make it out of Republican-controlled committees.  Such failed legislation includes a Health Care Freedom Act to oppose ObamaCare,  a Second Amendment bill, a bill to do the job of blocking illegal immigration that our federal government REFUSES to do, and authorizing drug testing for welfare recipients when government workers have reason to believe the recipient is using drugs.
A Republican legislature that cannot or will not pass textbook Republican legislation to protect the taxpayers and their interests is beyond pathetic.  It is primarily a failure of RINO leadership.  When people elect a Democrat, they expect liberal votes in accordance with the typical Democrat stance. When people elect a Republican, they don't expect more Democrat votes–they expect a representative who will vote according to Republican values.
With so many tools now available to alert voters to legislators who do not live up to the banner under which they sought office, the people will be watching the 2012 session (about to begin in a few days) very closely.  And there will likely be some primary challenges in the 2012 election, as well as some new faces in Pierre next year.