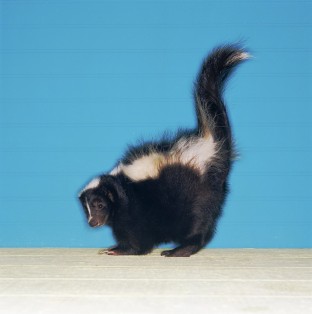 There has been a nasty stench in the South Dakota Republican Party for several years now.  If you don't follow politics too closely, you may not have noticed it, and even if you do, the whiff comes and goes.  But the smell was strong enough that when I was offered a not inconsiderable position within the local GOP a couple of years ago, I turned it down.
Now on one hand, you might say, "But Bob, if there's something rotten in the GOP, you should have seized the opportunity so you could do some good."  There is much to be said for that position, and we definitely need people who can and will do that.  But as a stipulation for accepting that position, I would have had to agree not to be critical of other Republicans in public.  That is a freedom I could not surrender.  Me?  I ultimately work for a Jewish carpenter who made it clear a long time ago that "being liked" is nowhere in my job description. While we do need good people on the inside who will make positive change, public commentary is what I do. While some might argue that my commentary isn't worth the electrons it takes to publish it online, others do disagree, and while there are any number of people who could fill a party position, there just aren't that many people who's "thing" is writing–and fewer still who will criticize the establishment.
But thankfully, there are a few who are actually within the party and serve in elected office who are willing to rock the boat, who won't go along with what the establishment tells them to shut up and do, who are willing to swing wide the door on that stench and allow the public to get a good smell of that decay that's been rotting for so long inside.
Rep. Stace Nelson, a Republican from Fulton, is one such legislator.  I was in touch with Nelson over the weekend, and the last few weeks have been rough ones for him.  That's saying a lot, for he's a brawny Marine who served our country for many years as a military cop and NCIS investigator; he and I trod some of the same ground during my years doing similar work in the Air Force.  But those who follow the newspapers and blogs around South Dakota, the establishment has opened up on him with all guns blazing.  Why?  Nelson has been looking to make steaks out of several sacred cows.
Nelson says it has been reported to him that Republican House Majority Leader Rep. David Lust, Republican Speaker of the House Rep. Val Rausch, and Republican Assistant Majority Leader Justin Cronin had a closed-door meeting with the Director of Legislative Research Council Jim Fry. According to Nelson, the reports indicate the Republican leadership was unhappy about some of the bills being submitted to the legislature by unruly Republican members who were acting too Republican. It seems the leadership wanted a heads-up about some of these bills (a violation of the confidentiality of the LRC), and that Fry's job may have been threatened if he didn't play ball. Indications are that this matter is under investigation–but I'm not clear on whether we may have the foxes investigating problems in the henhouse.
If you followed the legislative session in January-March 2011, it was one of the most pathetic I've ever seen. With massive Republican majorities in both the state House and Senate, many bills which were "textbook Republican" bills (i.e. right in line with the party platform, and right in line with the GOP political stance nationwide) couldn't even make it out of committee. We had Second Amendment bills that met with opposition from "Republicans," attempts to control the illegal immigration that our federal government REFUSES to control were shot down with extreme prejudice (yes, the pun is intended), and we couldn't even get a Health Care Freedom Act passed to tell the federal government where they can stick the unconstitutional anti-freedom ObamaCare bill. Things were so bad in the last session, one might have thought we had a 50/50 split with Democrats, or that the Democrats were even in charge.
After the session, Rep. Stace Nelson proposed that the LRC website add some functionality to make it easier for the public to look up how their elected representatives have voted on important issues. This information is indeed already available, but it can be very difficult to compile among many bills and issues, based on the way the information is compiled. However, as someone who has more than a decade of database and web programming experience, I can tell you that it would be fairly easy to produce what Rep. Nelson asked for. The information is already there; it just needs to be joined together and presented in a more useful fashion for the public.
Unfortunately, the powers that be (some of whom are the same "Republicans" who were hostile to the Republican agenda in the last session) squawked and balked and cried that it would be too hard to do. In reality, they just didn't want to do it. They know what a crappy record they have of representing Republican values, and any steps they can take to keep the general public ignorant to that helps keep them in power.
Several weeks ago, a group of concerned rank-and-file Republicans released a scorecard they had compiled which compared the votes of our South Dakota legislators to the South Dakota GOP platform. Few Republican legislators scored well, and in some cases, there were Democrats who adhered to the GOP platform better than some Republicans.
Shortly after that was released, Rep. Nelson was informed that he was being removed from his position on the Agriculture Committee. It seems he had also recently expressed disagreement over a proposed dairy in Hanson County that the leadership favors.
It has been growing more and more apparent to me over the last several years that there are far too many "Republicans" in South Dakota government who care more about "the game" of politics and the power that comes with it, than they do about advancing the Republican agenda.
And we sit around and wonder why the general public often doesn't trust the Republican Party to get the job done, and we can't figure out how Joe Public could say, "The two political parties are two sides of the same coin." Real Republicans don't get that attitude because we're focused on the values, the principles, the stated platform of the Republican Party…while the public (and you can't really blame them too much) is focused on the fact that the Republican Party is doing a pathetic job of living up to its values, principles and platforms. In other words, the GOP has been saying one thing and doing another.  The GOP has been talking up conservatism, but when the people give the GOP a shot at power, they water it down or run in the other direction and are nearly as bad as the Leftists who control the Democrat Party.
Some time back, I wrote about truth in advertising.  If you buy a Coke, you don't want to open the can and find Mountain Dew inside. If you buy a bag of sugar, you don't want to add it to your cake mix, only to learn it was laundry detergent.  And if you vote "Republican" to get the Republican agenda accomplished, you darned sure don't want to see a bunch of liberals with "R's" after their name running around Pierre attacking conservative bills and acting like they were Donkeys. It doesn't matter whether these RINOs really believe liberalism is the better way to go, or they're just afraid the elites will make fun of them and snicker behind their back at parties and socials–either way, freedom and Republican values are falling by the wayside.
Frankly, if you're not going to uphold the principles and platform of the Republican Party, you've got no darned business representing the party. A "Republican" who calls themselves a Republican in campaign mode but who then governs like a liberal Democrat is like a "Christian" who goes to church and acts all pious while wearing their church clothes…only to hit the bar and the strip club later.  In other words, it's hypocritical and it gives the folks who are sincere members of such organizations a bad name.
But we can't count on such two-faced hypocrites to leave positions of power in the Republican Party on their own; if they had the integrity to leave the party because they are a bad representative of it, they'd probably have the integrity to not act like a bad representative in the first place.
No, the people, the voters, the rank-and-file Republican average Joes are going to have to make it happen. We're going to have to PRIMARY these RINOs. That means we need to find and recruit real Republican candidates to replace them (maybe it's YOU who needs to step up and be that candidate), and then we need to back real Republicans in the primary with our volunteer time and our campaign donations to help them defeat entrenched power.  And then we'll need to remain vigilant to hold THEM accountable.
South Dakota is a wonderful place to live.  Despite the fact that we're a rural state with less than a million people, I think it's the best state in the Union.  But with a greedy federal government that is positively drooling to extend its reach over every aspect of every American's life, we won't be able to preserve the spirit of our state motto ("Under God the people rule") indefinitely if we don't have elected representatives who are committed to  freedom and limited government.  Unfortunately too many within the leadership of the current crop have made it clear they'll sell us out in a heartbeat.
It's time we turned them out before they get a chance to sell out any more of our freedom.