Gordon Garnos
AT ISSUE: Communities across South Dakota took a look at their needs for the past several years and with the help of state and federal grants and loans some of those needs have been taken care of. However, there is one question that probably hasn't been asked.
FOR THE PAST several years communities have been working on either replacing or repairing their infrastructures. With the help of state and federal grants and low interest loans many of these towns now have new fire stations and fire fighting equipment, new or updated community halls, new or updated libraries, and new or repaired sewer and water systems. But one question that hasn't been asked is: Is our community pretty?
Is our town attractive, good looking to a visitor, be he or she a family member or someone who may be looking for a town just the size of where you live to start a new business? For that matter, do you think your community is attractive to you?
A recent article in the Watertown Public Opinion put me to thinking. Is my town attractive to me and to others? That is a tough question ‹ to answer truthfully without possibly having to step on some toes.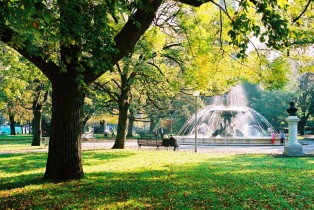 OTHERS HERE in Watertown recently took a look at that question and gave rebirth to Watertown Vision 2020. They say they have no preconceived ideas about the direction the group will take, but say it is full speed ahead.
The leaders insist the process isn't simply about building things, but also about the strongest links of attachment to a community such as social offerings, openness, aesthetics, education, basic services, leadership economy, safety, social capital and civic involvement.
I'm not sure what all of these mean, like social capital, for instance, but as a group they mean where is your community going–up or down?
Already they have discovered interested residents are needed to ensure the effort's success–but so are dollars. Focus Watertown (our industrial development folks), Prairie Lakes Healthcare System and the Watertown Community Foundation have committed money for the project.
Previous visioning projects have brought this community its new event center that is used almost daily for various meetings, conventions and entertainment. Also, the city can boast about its new water and sewer systems, new library and new fire and police stations.
BUT WATERTOWN isn't the only community in the state that is taking advantage of this visioning process. The Associated Press recently had a story about Thomas Unterseher of Mobridge. He's on a mission to make South Dakota's small towns attractive. He said our small towns need to improve their design and city planning if they want to attract and keep people and businesses.
He obviously doesn't like the boxy steel buildings. And, unfortunately, there is little money in the city budget for architects or designers. So, he is doing something about it. He is turning to an untapped resource:  architecture students.
The result: About 50 first and second year architecture students from South Dakota State University recently traveled from Brookings to Mobridge to begin the process of creating a new vision for that community. His was a great idea!
THEN, ON THE other side of the street, in the last edition of the Lyman County Herald, the headline read "Get your passport stamped in Presho."
The original story came out of Brookings about this couple a year ago who decided to participate in the SDSU Extension Horizons Passport Program. So, on a whim they decided to plan road trips throughout the year that would introduce them to 43 South Dakota communities that signed up with Horizons. Yep. Presho was one of them–and thus the headline in the Herald.
"The Horizons Passport Program is a project of the SDSU Extension Community Development. It is a community leadership program designed for small, rural towns, and aimed at reducing poverty by empowering local residents to make positive changes in their communities.
"These 43 communities are participating in the Passport Program, which is designed to encourage South Dakotans to explore our small towns across the state. From now to January 2013 people or groups can order a free passport from SDSU Extension, Brookings, S.D."
Then, each time they visit a Horizons community they can get their passport stamped. If they receive all 43 stamps before Jan, 1, 2013, they earn a gift basket. A bonus here will give the visitors the opportunity to see what other communities in the state are doing to better themselves.
This fits very neatly into the Visions process that I mentioned above like openness, aesthetics, civic involvement, etc. Are the folks in these communities up to the Vision challenge? The people taking those passport trips will soon find out. And if they do, they will be able to answer that question that hasn't been asked yet. Is my hometown pretty?….
Gordon Garnos was long-time editor of the Watertown Public Opinion, retiring after 39 years with that newspaper. Garnos, a lifelong resident of South Dakota except for his military service in the U.S. Air Force, was born and raised in Presho.