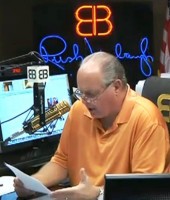 Yesterday on his show, Rush Limbaugh shared what he calls the "true story of Thanksgiving" as recorded in his best-seller "See I Told You So."
It's the story of the Pilgrim's well-intentioned but misguided and nearly disastrous flirtation with socialism (before there was such a name for such behavior), and how free market principles saved the colony.
It's a story that every, every, EVERY American needs to know.
Note: Reader comments are reviewed before publishing, and only salient comments that add to the topic will be published. Profanity is absolutely not allowed and will be summarily deleted. Spam, copied statements and other material not comprised of the reader's own opinion will also be deleted.