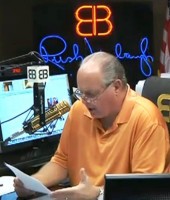 Yesterday on his show, Rush Limbaugh shared what he calls the "true story of Thanksgiving" as recorded in his best-seller "See I Told You So."
It's the story of the Pilgrim's well-intentioned but misguided and nearly disastrous flirtation with socialism (before there was such a name for such behavior), and how free market principles saved the colony.
It's a story that every, every, EVERY American needs to know.
---
Try us out at the new location:

American Clarion

!
---