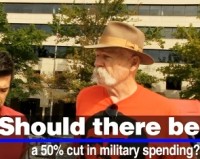 As usual, non "mainstream" media groups like the Media Research Center are out there getting answers for the American people about what the "occupationist" protesters believe and want.
The "mainstream" media must be too busy praising and applauding their comrades on the street to get us any real information.
Based on the interviews MRC conducted of the occupationists in Washington D.C., this is what these Marxists believe in:
– Single payer government health care system
– Government-mandated "living wage"
– Not sure if they like Dodd-Frank financial regulations because they don't have a clue about them.
– Open borders immigration policy
– A 50% (at least) cut in military spending, with some calling for an 80% or even 100% cut
– Don't like people who don't believe in anthropogenic global warming
– Belief in God is a mixed bag
As the American people consider whether they support or don't support the agenda of the occupationists, it is important that we have a clear picture of their beliefs and goals.
Unfortunately, the "mainstream" media is usually more busy hiding and obscuring the goals of Leftists than in informing us. They understand that if most Americans understand what the Left is really about, they will strongly reject it. Being the "objective" conveyors of information that they are, they cannot allow facts and reality to interfere with the American people's embrace of the liberal agenda.