AT ISSUE: Some folks really pony up to reunions, all kinds, family, class or high school, college, and military units, just to name a few. Others dislike them so much they get sick rather than go to one. I, for one, like them, the whole bunch. We just returned from one, kinda like a military unit. But we weren't a unit, just super good friends who date back more than 50 year.
THE PHONE RANG. The voice on the other end said it was Smitty. Who's Smitty, I asked.
"Don Smith. Don't you remember?"
When I heard his name, it all came back. Don and Mary Ann live in San Antonio, Texas, since he retired from the Air Force an eon ago.
"We'll just be going home from a reunion of Mary Ann's family in Duluth and if you guys (that's us in Watertown) and the DeWitts in Rochester could meet half way somewhere in between Rochester and Watertown for a couple of days it would be great," Smitty said.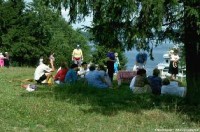 Well, the date was set for last Thursday and Friday in of all places New Ulm, Minn. I don't know if it was coincidence or what, but our little uniting was in that Minnesota city that was tagged after Ulm, Germany, another coincidence. That is where the three of us men were stationed more than 50 years ago. This was our second reunion in all this 50 plus years. We won't, or can't wait so long for the next one.
EVER SINCE I was a kid I have appreciated reunions. On my dad's side of the family it seemed like there was a family reunion on just about every holiday of the year. They were easy to put together as most of the family either lived in Presho or just a few miles out in the country. Taking turns was the key. To the east of town we would either go to the Howes or out to Oscar and Vee's. South of town it was the Slettos and in town it I don't know how they all fit into our apartment above the bakery. But they did.
For us cousins those reunions were for playing in the hay mows at the Howes and at Oscar and Vee's. And at the Slettos there were some fierce softball and "anti over the granary" games. If the weather was bad there were always inside games to be played.
On Mom's side it was a different story as my dad and my uncles, all in Nebraska, were bakers and couldn't get away Mondays through Saturdays. And Sunday afternoons were usually reserved for naps. So it was a rarity when they could all get together with their families.
However I do remember two or three Sehnert reunions. Sehnert being my mother's maiden name. It seemed like a park in Lone Pine, Nebraska, was a central place to meet. I know it took us hours to get there. For us kid cousins there were a number of places there in that tiny town to explore while my dad and uncles sampled the local area¹s bakery products and Mom and our aunts visited and visited and visited.
BACK TO THE recent reunion in New Ulm. We were at a Holiday Inn, but it was very "Germanish," complete with a German restaurant. I thought my mother and our aunts talked a lot, but that was nothing like the six of us. We hashed and rehashed our great times together back in Ulm, Germany.
It was rare we got together during the week as Ben, the soldier, was Army and always, it seemed, he was on training maneuvers, and Don and I were Air Force. He worked at the radar site and my office was in the squadron area. This was during the Cold War, but our wives were able to be with us and that really added an international flavor to our friendship.
Come Sunday nights we always gathered at the Blue Byway, an off-base service club for both Army and Air Force personnel. It was dance time and then a late lunch together at the Bismark Cafe.
Talking about our group having an international flavor, Ben was originally from Holland, who, with his family, moved to Indonesia and then to Montana. He joined the Army in Montana. His wife, Hilda, was a German gal from a small town near Ulm. Her maiden name was Herrmannsdoerfer. How German is that. Don was from Lincoln, Nebraska, and his wife, Mary Ann, was from Massachusetts. And my wife, Elizabeth (Beth, for short), was born in Scotland (McFarland) and grew up in Chester, England. But a Scot through and through.
The six of us plan to get together in a couple of years or so because we aren't as young as we used to be. That reunion will be more or less like the last two. Hashing and rehashing our great times together in some of the most beautiful area in the world. We all agreed.
Perhaps some other South Dakota veterans got to be stationed in or around Ulm and remember some of the same haunts that we did. Ulm was a friendly, beautiful city. Perhaps that's why the early folks named that Minnesota town in honor of where they came from. It, also, is a very friendly, beautiful city as well.
Yes. It is important to stay connected with both friends and family, but it seems so many of us forget that importance….
Gordon Garnos was long-time editor of the Watertown Public Opinion, retiring after 39 years with that newspaper. Garnos, a lifelong resident of South Dakota except for his military service in the U.S. Air Force, was born and raised in Presho.