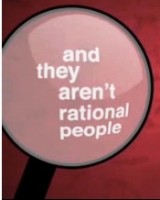 This is another great and illustrative video from Answers in Genesis that reveals some profound truths in a very short time.
If you've been relying on evolutionists and the evolutionist-dominated institutions of education and media for your information, you may not be aware that the theory of evolution is contradicted by science.
When I was an evolutionist some 15 years ago, I had no idea of this, but it's true.
For instance, science tells us that matter does not come into existence from nothing. Matter spontaneously springing into existence from nothing has never been observed in the field or in the laboratory, yet for the universe to have come into existence through materialistic and naturalistic processes without the aid of an intelligent designer, matter would have to be capable of coming into existence from nothing. This has never been observed, so these theories are unscientific.
Science also tells us that life does not come into existence from lifeless materials. Life springing from lifeless materials has never been observed in the field or in the laboratory. Therefore, the theory of evolution is unscientific because life could not even begin without a super-natural causation.
Further, science reveals that organisms do not spontaneously generate new genetic information. While natural selection and adaptation have been observed in nature, the transition from one organism into another kind of organism has never been observed, either through gradual processes or by sudden mutation. While evolutionists frequently cite antibiotic-resistant bacteria as an example of new genetic information, this actually involves a loss of genetic information–a loss of a protein which would normally allow the antibiotic compound to be absorbed. Since organisms have never been observed in the field or in the laboratory gaining new genetic information to become new types of organisms, the theory of evolution is contrary to science.
In short, a theory which is contradicted by the science it purports to depend upon cannot be considered a viable theory.  If a scientific theory requires key events which are not possible according to science,  it cannot be considered a scientific theory.  A theory which contradicts itself cannot be a logical theory, and the theories of materialism/naturalism/evolution are impossible within the framework of their own assumptions, i.e. that there is no intelligent designer.
It can be very challenging to grapple with the evidence that evolution is an inferior theory about origins and unviable scientifically. I went through that process about 15 years ago when I began to learn of evolution theory's weaknesses, and the scientific viability of creation science.  I had no idea that what I thought was hard fact regarding the age of the earth and dead organisms via radiometric dating was in fact based on little more than a set of assumptions that not only cannot be verified, but are frequently found to be wildly incorrect when the age of the rock can be verified empirically.  As disconcerting as it was, in the end I realized I had to opt for the better, more logically consistent theory even at the expense of the comfort of a long-held idea.
Having discussed these issues with dozens of evolutionists since then, I've come to realize that most evolutionists can't even come to terms with the difference between assumptions and facts, much less brave the jump from one worldview to another.  It can be an intimidating thing going from a lack of moral accountability to suddenly realizing you are morally accountable to a being powerful enough to create this enormous universe and everything in it–and realizing that you've failed to live up to that Being's standards.
But for those of us who have made the transition from believing in evolution theory to believing in creation can tell you, it is one of the most intellectually enlightening experiences you will ever know.
Watch this short video from Answers in Genesis and give it some thought.