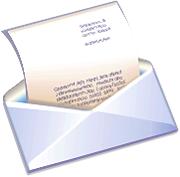 On October 25, 2011, I received a pleasant surprise telephone call from a local hospital. The work that I had done to help an elderly client finally resulted in a good resolution. The client that I helped is from Crown Point, Indiana.
In early September, the client visited this office and showed me papers that related to an unpaid bill of $1,100. I checked on matters and then wrote a letter for our client to sign. Then, I mailed the letter with documentation for the client.
The letter was sent to a local hospital. The letter did not get to an appropriate person. Our client got another bill for the $1,100. So, we sent the letter and materials with another cover letter to a different party at the hospital. After receiving the second letter, the hospital took action and sent the essential information about the bill directly to the insurance company as the letters requested. When the insurance company got the information that it needed to legally process the claim, it sent a check for $1,100 to the hospital. Our client owes nothing.
The problem was that Medicare failed to send the essential information to the insurance company. Without the information, the insurance company was unaware that our client had been treated at the hospital. Also, without all the required information, the insurance company could not legally process and pay the claim.
This problem was not the fault of our client, the hospital, the insurance company, or our insurance agency. Medicare caused this problem. Medicare made a mistake. Medicare makes mistakes like this often. In other articles that I wrote in the past, I gave my calculations which support my belief that Medicare mistakes like this one cost senior citizens in America OVER ONE BILLION DOLLARS PER YEAR in charges that the senior citizens are hounded to pay even though they really don't owe the money. I wish that more people would help senior citizens to correct the mistakes of Medicare and help senior citizens to save money.
The help that I gave this client was provided FREE OF CHARGE. The owners and managers of this insurance agency know that problems happen with the Medicare system. We do what we can to protect our senior citizen clients from being harmed financially when such problems happen. Does your insurance agent or agency provide this high level of service to senior citizen clients? If not, why not?
Woodrow Wilcox is the senior medical bill problem solver at Senior Care Insurance Services in Merrillville, Indiana. That is the largest senior citizen oriented insurance agency in the Midwest. For over six years, Woodrow Wilcox has helped senior citizens with medical bill problems with Medicare and VA clinics.He has saved senior citizens over $600,000 in wrongful charges. For more health care articles by Wilcox, visit www.medicareproblems.net or www.woodrowwilcox.com.
© 2011 Woodrow Wilcox. Re-published here with the permission of the author.