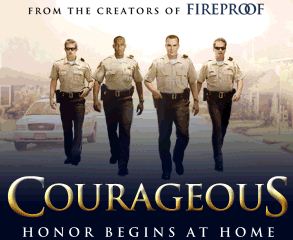 NASHVILLE – Oct. 13, 2011 – COURAGEOUS—the current release from the makers of FIREPROOF and on track to top that surprise hit at the box office—expands to 48 new cities this weekend. COURAGEOUS remains a top 10 film in the weeks after its Sept. 30 premiere, after opening on 1,200 screens, compared to the 3,000 locations typical for a film in wide release.
"Of course we're humbled and gratified by the reception for COURAGEOUS," Executive Producer and Sherwood Baptist Church Senior Pastor Michael Catt said. "But what really excites us is the chance to reach more people with the film's vital message on families and fathering. As COURAGEOUS expands to new cities, we're thankful for the opportunity to do that."
Beginning this Friday, Oct. 14, COURAGEOUS will show in these new cities that have been asking for the movie:
Anchorage, Alaska   Tikahtnu Stadium 16
Tucson, Ariz.   Harkins Spectrum 18
Burbank, Calif.   Media Center 8
Rancho Mirage, Calif.   River Cinema 15
Watsonville, Calif.   Green Valley 8
Brighton, Colo.   Brighton Stadium 12
Durango, Colo.   Gaslight Twin
Lakewood, Colo.   Century 16 Belmar
Rehoboth Beach, Del.   Midway 14
New Smyrna Beach, Fla.  Beacon 12
Pace, Fla.   Ridge Cinema 8
Roswell, Ga.   Aurora Cineplex 10
Cherokee, Iowa   American Theatre
Carroll, Iowa   Carroll 5 Cinemas
Centerville, Iowa   Lake Center 4
Muscatine, Iowa   Plaza 4 Theatres
Mason City, Iowa   Cinema West 10
Ottumwa, Iowa   Ottumwa 8 Theatre
Carbondale, Ill.   University Place 8
Sandwich, Ill.   Wow 7 Cinema
Elkhart, Ind. Encore   Park 14
Portage, Ind.   Portage 16
Huntington, Ind.   Huntington 7
Greenfield, Ind.   Legacy 9
Broussard, La.   Celebrity 10
Ocean City, Md.   Sun & Surf 8
Augusta, Maine   Cinema 10
Marquette, Mich.   Royal Cinema 10
Ypsilanti, Mich.   Rave Ann Arbor 20
Concord. N.C.   Carolina Mall 8
Kernersville, N.C.   Countryside 3
Albemarle, N.C.   Eastgate 5
Hooksett, N.H.   Cinemagic
New Brunswick, N.J.   New Brunswick 18
Espanola, N.M.   Dream Catcher
Las Vegas, Nev.   Santa Fe Station 16
Lakewood, N.Y.   Cinema 8
Oneida, N.Y.   Movieplex 9
New Hartford, N.Y.   Orchard 14
Wooster, Ohio   Movies 10
State College, Pa.   Premiere College 9
Del Rio, Texas   Movies 8
Kingsville, Texas   Rio 7 Cinemas
Galax, Va. Twin   County 3
Redmond, Wash. Bella   Bottega 11
Oshkosh, Wis.   Cinema 10
Bluefield, W.V.   Cinemas 8
Elkins, W.V.   Elkins Cinema 8
A Sherwood Pictures production, COURAGEOUS is distributed by TriStar Pictures with marketing by Provident Films and AFFIRM Films. COURAGEOUS tells the story of four men with one calling: To serve and protect. As law enforcement officers, they are confident and focused, standing up to the worst the streets have to offer. Yet at the end of the day, they face a challenge that none of them are truly prepared to tackle: fatherhood.
When tragedy strikes home, these men are left wrestling with their hopes, their fears, their faith, and their fathering. Can a newfound urgency help these dads draw closer to God . . . and to their children? Protecting the streets is second nature. Raising their children in a God-honoring way? That takes courage.
COURAGEOUS comes from Sherwood Pictures, the movie-making ministry of Sherwood Baptist Church that also made FIREPROOF, the No. 1 independent film of 2008.  FIREPROOF was a difference-making movie about restoring damaged marriages with faith and sacrificial love. COURAGEOUS aims for a similar positive impact on fathering and families. Statistics show children from fatherless homes are more likely to have health problems, underperform in school, face drug and alcohol issues, and become involved in crime.
Tickets are available now on CourageoustheMovie.com; Fandango, Movie Fone, MovieTickets, and other online sales sites; and through the theaters.