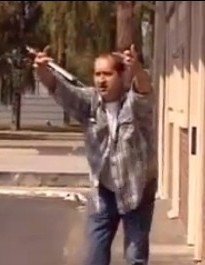 In the video below, a reporter asks a Tea Party member about a disagreement his group is having with other locals.
The Tea Party person calls his political opponents obscene names, then tells the reporter to leave the area (again using obscene language) and man-handles the cameraman. The Tea Party person also threatens further violence and damage to private property.
The Tea Party member also makes obscene gestures toward the reporter and cameraman.
WARNING: Extremely obscene language is used by the person in this video. DO NOT play this video if CHILDREN are present.
I don't normally post material of this graphic nature, but it is important that people see the behavior of these Tea Party people so they can denounce it accordingly. Though no doubt the media will be all over this in a heartbeat, so I'm sure you'll have 100 opportunities to see this before the day is out.
Oh, that wasn't a Tea Party member? That was a union member? Someone on the Left? You mean this was one of the "tolerant" liberals out there who are just "looking out for the little guy" and are leading the way in setting President Obama's "new tone?"
Sorry, I didn't realize that. I thought it was one of those violent, racist Tea Party people. Never mind then. Move along. Move along.