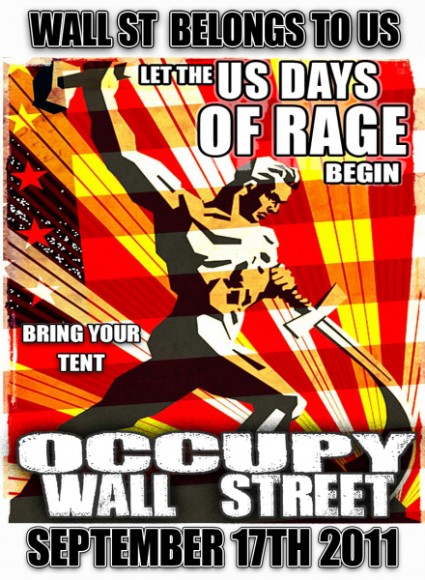 Just when you thought it couldn't get any worse than the spectacle of idiocy, self-centeredness, greed and anti-Americanism seen in Madison, Wisconsin last winter, now comes a "Day of Rage" planned for our nation's Constitution Day on September 17. Watch the video below for a better look at what they have planned.
Yes, on the day most Americans (the patriotic ones) celebrate the document which founded the most free and effective government in history, that guarantees the liberties of the most free people in history, some spoiled children among us will rage against all that freedom and prosperity.
What it comes down to for these Marxists is this: if they don't have everything that the wealthiest among us has, and handed to them on a platter without having to work for it, they will rage against the freedom of their fellow Americans to have more property than them. These spoiled children are the epitome of self-centeredness and greed, being too lazy to go out and create their own fortune, but too narcissistic to tolerate the fact that another person has more or has earned more.
We saw this ugly battle for free spoils rage in the capital of Wisconsin over the winter as Governor Walker and the legislature worked to bring an end to the gravy train government unions had enjoyed for decades in that state. Though Wisconsin–like most states and our federal government–was facing a fiscal crisis, entitlement-minded Marxists were unwilling to sacrifice anything from their free ride. They made it vociferously clear that they expected the taxpayers to continue forking over cash to pay for their goodies, whether those goodies met fair market value or not.
A great victory for fiscal responsibility was eventually won in Wisconsin, but obviously the battle is not over.
Even before the dust had settled in Wisconsin, we were seeing that self-centered Marxists across America were throwing tantrums by protesting in front of the homes of the leaders of large free market businesses, and going into those businesses to disrupt commerce.
Now, with this "Day of Rage" move to "occupy Wall Street" on Constitution Day, the takers have targeted the symbol of American prosperity with their greed. As is often the case with liberals, one has to wonder whether they were smart enough to realize the day they picked was Constitution Day…or whether they deliberately chose that day to further thumb their nose at the American way of life.
Yesterday, Fox News announced the results of a poll which found that 51% of Americans expect major political uprisings in the next 10 years.
Most American voters think the U.S. political system is broken, and more than half think major political uprisings like those recently seen elsewhere around the world are likely to happen in the United States in the next decade.

These are some of the findings from a Fox News poll released Thursday.

Less than a quarter of voters (22 percent) think the U.S. political system is working the way it is supposed to work with different sides fighting hard for what they believe. Most — 74 percent — say the system is broken and gridlocked.
If only 51% believe this, the other 49% must be out to lunch, because we've already seen both positive and negative displays of major political uprising in the past two years.
On the positive side, the Tea Party movement sprang up from nothing a little more than two years ago in the face of a Marxist president and Marxist congress that made it immediately clear that they planned to "transform America," and that they planned to transform it in a way that had nothing to do with following the U.S. Constitution. Thousands if not millions of Americans rose up peacefully on Tax Day in April of 2009 and made it clear that they would not stand for the socialization of the United States. This movement brought about a historic shift in power in Washington in the 2010 elections.
On the negative side…well, we've already briefly discussed the infantile display in Madison, Wisconsin, and isolated displays here and there across America. And now there is this "Day of Rage" (which should be called the "Day of Narcissism" or the "Day of Greed") planned on a national level.
Major political uprising is already here, folks, and it marks a flashpoint in what has been a cold war between two basic ways of life: the American way of life involving freedom and opportunity, and the Marxist way of life involving government domination of every aspect of our lives. If the American people expect to keep hold of their freedom and heritage, we will see more of this conflict, because the takers have made it clear they will not go quietly into the night. No, they have most assuredly not given up on their glorious socialist revolution–either through peaceful or violent means
But many of the people who answered that poll are fundamentally mistaken about something: the American political system is not broken. No, it remains the best political system ever devised by human beings (with a little help from Divine Providence, as Benjamin Rush might have agreed).
Rather, it is we human beings who are broken. When our political system was crafted, we were a moral and religious people. Despite modern propaganda to the contrary, almost all of the founders were Bible-believing Christians, and the American people in general were predominately committed Christians.
Our political system was founded for a people who adhered to a moral code that led them to discipline and restrain themselves for the most part. Benjamin Franklin once made a statement which, probably better than anything, sums up precisely why the American system was possible to begin with, and why it worked so well for most of our history: "Only a virtuous people are capable of freedom. As nations become corrupt and vicious, they have more need of masters." Because we would restrain ourselves from moral transgression, we had less need of government to force us to behave.
Now that we have made the decision as a nation some 60 years ago to reject our Christian heritage and way of life, we are seeing a deterioration of morality and self-restraint in our nation. We are paying the price not only with more arrests, more jails and more taxpayer expenditure, but also in more government…and a corresponding loss of freedom.
No, our political system is not broken. More than 200 years ago, John Adams explained the problem we face:
We have no government, armed with power, capable of contending with human passions, unbridled by morality and religion. Avarice, ambition, revenge and licentiousness would break the strongest cords of our Constitution, as a whale goes through a net. Our Constitution was made only for a moral and religious people. It is wholly inadequate to the government of any other.
We usually think of "morality" in terms of the immoral manifestations that have taken hold of our culture in recent decades, such as homosexuality and general displays of sexual debauchery. But there is another type of morality which I think Adams had in mind, at least in the back of his head, when he said this.
You see, a nation cannot survive if the people are possessed of greed for things they have not earned, if they are covetous of the property of their fellow citizens. If citizens are willing to surrender their freedom and vote for corrupt politicians on the basis of their belief that the corrupt politician will extend to them some small share in the loot of the taxpayers, then we are lost.
It remains to be seen whether the renewal of public expression of the American spirit begun in the Tea Party movement has the energy and tenacity to continue. In fact, if there aren't more than those who have already stepped forward for freedom, we have to ask ourselves if enough true Americans really remain to make it possible to save our country.