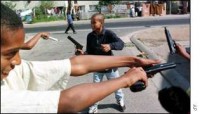 On the heels of "Operation Fast and Furious" (also called "Project Gunrunner") the ATF approved program that allowed Mexican drug cartel members to buy weapons along the Arizona border, some of which were later used to kill US Border Patrol Agents, comes "Project Gunwalker."
David Codrea of Gun Rights Examiner has broken the story about a program in Indiana that allowed the illegal sale of weapons to convicted felons and gang members who then allegedly transported them to Chicago where they were distributed to other gang members. This was all arranged and approved by the ATF, according to information received by Codrea. At least one gun dealer agreed to cooperate with ATF agents, who also made arrangements with the FBI background check system and fixed it so the queries would go through when the gun dealer contacted them as required by law. This allowed the sales to proceed, even though the buyers were convicted felons and gang members. Presumably, some of these guns ended up being used to commit crimes in the Chicago area.
Is it only a coincidence that there was a similar program in the southwest and now another here in the heartland, in fact, in Obama's home-town? Or is it a much larger operation, with approval at the highest levels, whose purpose is to increase gun violence with the use of illegally obtained weapons throughout the country. By doing so, it is reasoned by some on the Left, the American public will be more inclined to accept greater restrictions on the sales and ownership of weapons; a back-door attempt to impose greater gun control measures by portraying them as reasonable and necessary to curb rising gun violence and illegal gun sales, all of which was instigated by our federal government.
This administration is fearless, ruthless and tenacious. Attacks on our Constitution have become an almost daily occurrence. Many attempts to subvert our Constitution have met with some resistance, thank God, but these Marxists are undeterred. They just keep coming up with one scheme and then another, mostly illegal, attempts to take away more and more of our rights. They will not cease until they have nearly complete control on all aspects of our lives and we are then powerless to resist. It's the same game-plan as with every other tyranical despot.
We must demand a special prosecutor be appointed to investigate this scandal. How many Americans (and innocent Mexicans) will have to die to satisfy the anti-Constitutional Marxists and bring about the "transformation" that they desire?
Please talk to your friends and neighbors about this tyranny and write your representatives and senators. Demand an investigation and an immediate end to such illegal activities on the part of federal agencies that have forgotten who they work for and their responsibility to uphold and defend the Constitution of the United States of America.
Senator Chuck Grassley(R) of Iowa has beeen at the fore-front of the inquiry into "Fast and Furious." Please send him a note of encouragement, too.