Archive for September 18th, 2011
The best of the best from Dakota Voice last week, including: Obamas 'Attack Watch' not for the Strong of Mind; Democrats Defend the Tea Party; Chris Matthews Agrees: Social Security is a Ponzi Scheme; Republicans Begin to Rein in NLRB; Why Aren't Republicans Cutting More Spending?; Pulpit Freedom Sunday 2011 Coming Up; and more!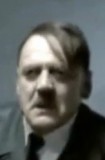 You've heard of the Obama Administration's silly "Attack Watch" website that attempted (before it became the laughingstock of the internet–even among liberals) to become the Bureau of Truth. If not, Gina can catch you up. It seems Hitler was really behind the website, and he's furious that it's now viewed as a joke. Watch his reaction to the news.