AT ISSUE: Learning all the new buzz words related to the internet's social networking is a rather tough assignment for a lot of us, especially those of us who are passed retirement age. Still, those of you who are still part of the younger bunch can learn from the old codger set. That is if you are willing and intelligent enough to listen. Social networking, especially from a moving car or sending the wrong information about yourself can hurt you ­and even kill.
ALMOST FROM the time Gutenberg invented the printing press in 1440 columnists, or at least some of them, have been accused of writing about something they knew nothing about. Well, here is another time because today's column deals with social networking, or in my way of thinking is the common idiom for such things as a cell phone, texting, twittering and Facebook, things of that nature.
Yes, I can use my cell phone to make calls, but when it comes to using those other buzz words like texting and twittering I'm left out in the cold. And thank goodness I am.
What prompted this epistle was a news spot in the paper the other day where some girl was driving and believed to be texting at the same time. She was killed in the crash.
Then, how many times have we heard of some girl putting out the wrong information on Facebook or one of those other identity accounts and ended up dead. The Facebook, especially if you send to others not listed as one of your friends seems to be like an open book for rapists.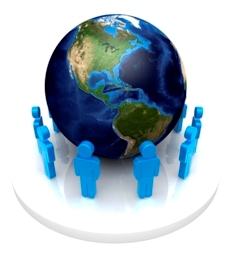 TWITTERING SEEMS to be one of the most ridiculous forms of communications there is today. A Tweet (message) can only be a max of 140 characters. And most of those messages seem useless any how. "I am eating," so what? Who cares.
A recent article told how a San Francisco Bay resident Googled her name along with her city of residence. On one site, U.S. Identity, she found what she thought was too much information, including her addresses going back nearly 20 years.
"I was really creeped out that all this information came up in an instant through such a simple search," she said as she went ahead in trying to get a lot of that information blocked out.
ONCE AGAIN, every time when you are online, marketers, game developers and search engines are trying to suck up as much information about you as they can. This is in the hope that some day they can use information to make lots of money off you.
We have grandchildren who are texting constantly, even at the table until they get caught. Why don't they just call up their buddies and talk to them via their cell phones. Texting seems to be so much less personable. I just hope they are not sending the wrong messages–to the world.
The article went on to say, "With data breaches and self-inflicted privacy gaffes becoming a more common occurrence, more people are fighting back against the invasiveness of some of these technologies and are now trying to wrangle their digital identities back under their control, but too often this has been a tough fight."
While many of us oldsters don't know how to text or send a tweet on these new gadgets, we do have enough moxie to send along an important message about how this new technology can get you into trouble.
Here is a list of things you can do to help protect your safety ­and privacy. By the way, it's becoming more expensive every day.
For parents ­and grandparents:
Most kids seem to have their own Facebook page. It's a known fact that teenagers spend two to four hours every day on line. Have regular talks with them. Ask your teenager over dinner what he or she does online.
Explain the basics to them. One should never share their passwords, post anything that could damage their reputation or someone else's, or accept "friend" requests from people they don't know.
Don't be judgmental. Be open-minded as hard as it may be and don't criticize.
Don't be a friend. It can be more productive to talk to your teen instead of trying to "friend" him or her.
And try to learn the internet lingo. Web-speak is full of acronyms parents can learn by visiting websites such as commonsense.org.
For teenagers:
Check various sites to see how much they know about you. If there is stuff you don't want to see on the screen, do your best to get rid of it.
Don't do or post things online that you wouldn't say to someone in person. Be cautious about who you befriend.
Think before posting photos on networking sites.
Set your Facebook privacy settings to Friends Only.
Don't answer get-to-know-you question games on Facebook or elsewhere.
Learn to use privacy settings on your Internet browser.
THERE YOU HAVE IT. As I said, us oldsters may not know much about this new internet technology, but we do know something about concern for our teenagers. And we hope and pray they are listening….
Gordon Garnos was long-time editor of the Watertown Public Opinion, retiring after 39 years with that newspaper. Garnos, a lifelong resident of South Dakota except for his military service in the U.S. Air Force, was born and raised in Presho.