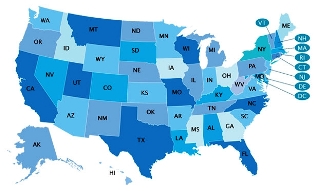 A friend and patriot from the east side of South Dakota sent me this earlier this morning: it's the Heritage Foundation's Freedom Scorecard.
From the Heritage Foundation's press release on the scorecard:
"With each vote cast in Congress, freedom either advances or recedes," Heritage Action's CEO Michael A. Needham said. "Heritage Action's scorecard will empower Americans to hold their Members of Congress accountable to conservative principles."…

…Heritage Action's legislative scorecard currently encompasses 30 votes and 5 co-sponsorship scores in the House and 19 votes and 4 co-sponsorship scores in the Senate. The votes cover the full spectrum of conservatism, and include legislative action on issues both large and small. 13 Senators and 27 Representatives received scores above 85%.
Who are the top 10?
SC SC Sen. Jim DeMint R 99%
UT UT Sen. Mike Lee R 98%
SC 3 Rep. Jeffrey Duncan R 97%
UT 3 Rep. Jason Chaffetz R 96%
AZ 2 Rep. Trent Franks R 96%
OH 4 Rep. Jim Jordan R 96%
AZ 6 Rep. Jeff Flake R 95%
SC 5 Rep. Mick Mulvaney R 95%
MN 6 Rep. Michele Bachmann R 94%
SC 2 Rep. Joe Wilson R 94%
Who are the bottom 10?
CA 43 Rep. Joe Baca D 0%
AZ 8 Rep. Gabrielle Giffords D 0%
DC 79 Del. Eleanor Norton D 0%
HI HI Sen. Daniel Akaka D 0%
NM NM Sen. Jeff Bingaman D 0%
CA CA Sen. Barbara Boxer D 0%
CT CT Sen. Richard Blumenthal D 0%
WA WA Sen. Maria Cantwell D 0%
MD MD Sen. Benjamin Cardin D 0%
ND ND Sen. Kent Conrad D 0%
It's pretty clear which party needs to hit the road, isn't it?  If you aren't protecting the freedom of the people in your state, you are the enemy.
Where do South Dakota's representatives come in?
SD SD Sen. John Thune R 78%
SD 1 Rep. Kristi Noem R 51%
SD SD Sen. Tim Johnson D 0%
Uh oh, Rep. Noem. Looks like you have some work to do. Don't be getting Potomac Fever and listening to the libs in Washington D.C. Keep hold of those South Dakota values that got you elected.
Click here to check your reps, then make sure you hold them accountable…at the ballot box, if necessary.