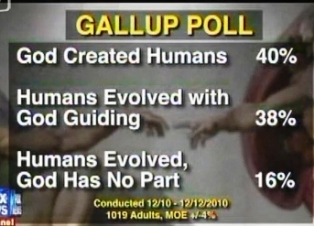 There are a number of areas where I disagree with Rick Perry (HPV vaccinations, Islam, illegal immigration and border control, and hate crimes to name a few) and I don't believe he is the best candidate for president (Rep. Michele Bachmann is the most consistently conservative candidate, and the "mainstream" media positively gnashes their teeth at her, which is a resounding endorsement), but at least he isn't afraid to act like a Republican in public.
At least a couple of the GOP candidates for president, like Mitt "RomneyCare" Romney and Jon "I Should Be Running as a Democrat Too" Huntsman, seem ashamed to be associated with foundational Republican beliefs and doesn't want to be anywhere near the opinions of most Republicans.
But when a liberal woman sent her "human shield" son out ahead of her to do her dirty work at a Rick Perry campaign stop, Perry answered that the theory of evolution told the boy that the theory had some holes in it, and that both creation and evolution should be taught.
Perry has also said that he doesn't drink the anthropogenic global warming (AGW) Koolaid either.
Jon Huntsman says
To be clear, I believe in evolution and trust scientists on global warming. Call me crazy.
Spoken like a true follower, Mr. Huntsman. Where ever the herd is perceived to be going, that's where you're going to position yourself, right? Even if it's going over a cliff…like the theories of AGW and evolution?  Ooookay.
As recent polls show, including the one mentioned in the video below,  though the "mainstream" media and the rest of the liberal elite want you to believe the herd believes in evolution and AGW, that is not the case at all.  I'd never recommend following the herd for the sake of appearing to be trendy, but if you truly want to be a follower, Mr. Huntsman, you should ditch the beliefs in nutty, politically correct theories.
Call you crazy? Okay, as if I needed your permission. It is pretty crazy to consider that climate change has been going on for thousands of years in greater extremes than today, and now because a bunch of Marxists and out-of-work communists need a new vehicle to rob you of your money and your freedom, you're going to buy a bunch of scientifically unfounded guesswork and fudged computer models' claims that evil capitalist activity is causing the planet to warm up?
Spare me.  The AGW hypothesis is so flimsy, it's no wonder belief it it has been plummeting for years, to the point that only about 1/3 of the people are buying it and the vast majority believe "scientists" have been cooking the books to convince us it's real.
That's almost as crazy as believing an unproven and scientifically contradictory theory that everything in the universe (including the universe itself) "just happened."  When scientific observation and experimentation has proven that (a) matter doesn't spontaneously come into existence from nothing, (b) disorganized matter does not spontaneously organize itself into higher, more dense, more complex forms, (c) life does not come from lifeless materials, (d) organisms do not gain new and more complex genetic information that is passed on from one generation to the next, and (e) organisms have never been observed in the field or in the laboratory changing from one kind of organism into another kind of organism…when you consider that science contradicts several key tenets of materialist/evolutionist doctrine, this renders the theory of evolution an illogical and unworkable theory within the framework of its own assumptions. Anti-science?  Yes, that's what evolutionists are.
Of course, the only reason the "mainstream" media and other Leftists bring these issues up (especially the creation/evolution one) is to create the opportunity to make a Republican look like an anti-science, primitive, knuckle-dragging Neanderthal in public. They are counting on the public to fail to realize that believing in these nonsense theories is actually the anti-science position.
Me?  I'm counting on the public, as it moves further away from the "dinosaur media" and establishment forms of information, to do more independent thinking and less following the herd. I'm also counting on Republican candidates to also do some thinking for themselves, as well as leading instead of following.
How about you?