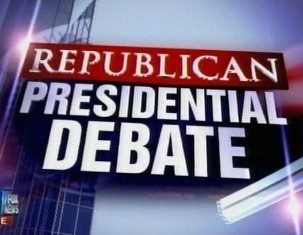 The latest GOP presidential debate was held tonight at Iowa State University in Ames, Iowa. GOP candidates participating were Rep. Michele Bachmann, Rep. Ron Paul, Mitt "RomneyCare" Romney, Herman Cain, Rick Santorum, Tim Pawlenty, Jon Huntsman, and Newt Gingrich.
Candidates were asked questions on numerous topics including the economy, job creation, illegal immigration, taxes, and the recent "debt deal."
When asked about illegal immigration and his statement about using a moat and electric fence to protect our borders, if he was serious, Cain said America needs to learn how to take a joke. He continued to make it clear that we can have secure borders while welcoming legal immigrants.
When asked about the "super congress" the recent "debt deal" came up with, Gingrich said it was "about as dumb an idea as Washington has come up with in my lifetime" and we need to "get rid of this secret, phony business."
Pawlenty was asked about his statements in the past about Romney's government health care plan in Massachusetts that he called "ObamneyCare." With regard to fighting to repeal ObamaCare, one of Pawlenty's statements was, "I don't think you can prosecute the political case against President Obama if you are a co-conspirator."
Pawlenty responded that ObamaCare was patterned after RomneyCare, and that they are essentially the same plan. He said that Romney's record was also similar to Obama's in the spending that Romney ran up by 40% in Mass. Romney's judicial selections were also often pro-abortion and liberal in other areas.
Romney claimed there were some differences between RomneyCare and ObamaCare, and that the main one was the 10th Amendment. He said that RomneyCare was right for Massachusetts, but ObamaCare was wrong to force on the entire country. When asked if the government has the authority to force an individual to buy a product, and Romney implied that the Massachusetts constitution provides authority for the state government to force an individual to buy a product whether they want it or not.
Bachmann asked whether there was a difference between a state and the federal government forcing an individual to buy a product and she said there is no difference. She said that if any government could do that, there was no limit to the government's power. "I will not rest as President of the United States until we repeal ObamaCare," she said.
Paul said that states do have the leeway under our constitution to do bad things, and that the federal government is not empowered to go in and stop them. He said that government meddling in the health care system drives a wedge between the doctor and the patient, and we need to get back to market delivery of health care.
Paul was asked about his statements against sanctions being used against Iran, and that they should be treated more respectfully. Paul said that Iran was not working on a nuclear weapon and claimed the CIA agreed with him. He said Iran was surrounded by nations with nuclear weapons, and that it would be natural for them to want nuclear weapons. He said having them would bring them more international respect. He said that putting economic sanctions on a country makes you more likely to go to war with them, and rather than fight more wars, we need to just bring all our troops home.
Santorum took issue with Paul's position, pointing out that Iran has been at war with us for decades, going back to the time when they took our people hostage, and that they have been behind the killing of man of our troops in Iraq. Further, he said that Iran was the number one threat against our ally Israel.
Cain said he took Iranian leader Ahmadinejad's threat to wipe Israel off the map. He said that we also need to use all of our natural resources to become energy independent, because our energy strategy is another way we can bring pressure to bear on that nation. More oil produced by the United States will lower the price of oil worldwide, and deprive them of a great deal of income.
Romney was asked about the attempt by homosexual activists to counterfeit marriage. He said since marriage and children are such fundamental issue, and people often move around from one state to another, this issue needs to be handled at the federal level so that children are treated the same across the entire country, and that should be done with a federal marriage amendment.
Huntsman was asked about his support for homosexual civil unions and why he thought his fellow Republicans were wrong for supporting civil unions. He said that everyone was entitled to their beliefs.
Paul was asked why he believed the federal government has no role in protecting marriage. He said the federal government is already too involved, that people should just go to a church, and people shouldn't force their beliefs on others.
Santorum said it sounded like Paul believed if a state wanted to legalize polygamous marriage, it would be okay. Santorum said he came to Iowa last year to help Iowans get rid of the judges who attempted to authorize homosexuals to counterfeit marriage in that state.
Bachmann said she supports the federal marriage amendment because the issue will reach that level sooner or later. She said she supports marriage as between a man and a woman.
Santorum was asked why he didn't support abortion exceptions for rape and incest. He pointed out that under our laws, a murderer or rapist can escape the death penalty, but a child conceived in rape cannot escape execution if the mother chooses to execute it.
Bachmann was asked about her opposition to raising the debt ceiling in the recent debt debate, insisting the country was not at risk of default. She said congress gave President Obama a blank check for $2.4 trillion dollars. In return, we got $21 billion in "illusory cuts." She said the increasing debt level, now above $14 trillion, is insane. She said that when the credit raters dropped our credit rating, they did it because our ability to repay our debt was more in doubt, and raising our debt limit is going in the wrong direction.
Part 1

Part 2

Part 3

Part 4

Part 5

Part 6

Part 7

Part 8