Archive for July 24th, 2011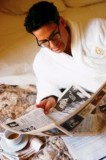 These are the best of the best articles at Dakota Voice last week, including: Radical Homosexuals at War with God and Reality; Criminal Prosecution for Clerks Who Won't 'Marry' Homosexuals?; Gary Harvey Case Illustrates Corrupt, Evil System; The Gary Harvey Case: Out of Site Out of Mind; West's gentlemanly behavior; Mitt Romney Dangerous on Climate Agreements; Study: Seeing American Flag Motivates People to Vote Republican; and more!
In so many churches today we have unwittingly reduced the gospel to a "come to Jesus and be happy" proposition (the therapeutic Jesus) rather than a "call on the name of the Lord and be saved" reality. Additionally, many churches have become so reliant upon modern methodologies, growth strategies, and best practices that they operate like well-ordered corporations that, practically speaking, think they have no need of God. I would argue that the "world come to us" approach has largely stripped the church of authentic faith in Jesus Christ and replaced it with a club mentality that seeks like-minded club members, people who already share our values and are looking to be with their own kind.