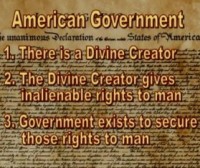 Have you ever wondered what makes America unique among all the nations of the earth?
Have you ever wondered why a relatively young, upstart nation on the backside of the known world could rise to international prominence in just a few short decades?
Have you ever wondered why a new nation, started from scratch, could become the world's most powerful nation in less than two centuries?
Have you ever wondered why the United States has enjoyed prosperity and domestic tranquility unparalleled in the world and throughout history?
Historian David Barton points to something that makes us unique among all the nations: the recognition of certain fundamental truths.
We find these fundamental truths–truths that form the foundation of who and what we are as America–articulated in our founding document, the Declaration of Independence.
In the video clip below, Barton hones in on 45 words that make all the difference:
We hold these truths to be self-evident, that all men are created equal, that they are endowed by their Creator with certain unalienable Rights, that among these are Life, Liberty and the pursuit of Happiness. — That to secure these rights, Governments are instituted among Men
From these 45 words, we discover several critical truths from which flow everything we believe in as Americans
There is a Divine Creator
The Divine Creator gives inalienable rights to man
Government exists to secure those rights to man
No other nation in the world is founded on these truths, and no other nation has been blessed as ours has.
Unfortunately, as we began to walk away from these truths some 50-60 years ago, we have watched those blessings diminish. Let us turn around and re-embrace them before it's too late.