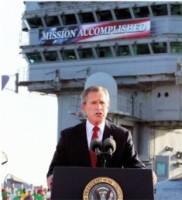 Bill Whittle's latest Afterburner corrects some of the lies and propaganda spread by the "mainstream" media and other Leftists over the past 8-10 years about President Bush, the war on terrorism, the Iraq War and some other things.
Some of the crap foisted by the Left which Whittle corrects:
– Mission Accomplished?
– Did President Bush "take his eye off the ball" in Iraq?
– Was the United States the paper tiger Bin Laden thought?
– Was Gitmo helpful in the War on Terrorism?
– Is waterboarding torture?
– My Pet Goat?
– The gutsy call?
– Would any of our successes against terrorism have happened if we had behaved as Barack Obama and his fellow gutless Leftists had counseled?
From the video description:
Genes carry hereditary information. MEMES carry cultural information. Problem is, many memes are defective — they're based on falsehoods. We used to have an immune system — called the "press" — that caught errors. Now the "press" generates most of the falsehoods themselves.
[youtube]http://www.youtube.com/watch?v=MiYk8bxO7zQ&feature=player_embedded[/youtube]