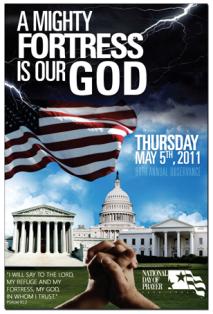 SCOTTSDALE, Ariz. — Alliance Defense Fund attorneys say they are ready to offer free legal counsel to any government entities legally challenged for recognizing events related to Thursday's National Day of Prayer.
"Public officials should be able to recognize public prayer activities just as America's founders did," said ADF Senior Counsel Joseph Infranco.  "After the events of this past weekend, it's hard to imagine better timing for this event. We encourage all Americans to take part in National Day of Prayer activities to give thanks to God and ask for His guidance. ADF stands ready to defend such activities if they are challenged in court."
ADF has long defended the National Day of Prayer, including its most recent defense of the National Day of Prayer Task Force and former spokesperson Shirley Dobson in the lawsuit Freedom From Religion Foundation v. Obama. ADF succeeded in having Dobson dismissed from the lawsuit at the district court level before filing a friend-of-the court brief on behalf of the task force at the appellate court level. On April 14, the U.S. Court of Appeals for the 7th Circuit rejected FFRF's lawsuit and allowed the National Day of Prayer to continue.
In March, ADF attorneys authored a letter delivered to governors across the country, encouraging them to observe the 60th annual National Day of Prayer and explaining that they are on firm legal footing to do so.
President Barack Obama issued his 2011 National Day of Prayer Proclamation Tuesday, stating, "Prayer has played an important role in the American story and in shaping our Nation's leaders…. It is thus fitting that, from the earliest years of our country's history, Congress and Presidents have set aside days to recognize the role prayer has played in so many definitive moments in our history."
In 1952, President Harry Truman signed into law a joint resolution by Congress to set aside an annual National Day of Prayer. Congress amended the law in 1988, which was signed by President Ronald Reagan, specifying that the annual event would be observed on "the first Thursday in May each year."
ADF is a legal alliance of Christian attorneys and like-minded organizations defending the right of people to freely live out their faith. Launched in 1994, ADF employs a unique combination of strategy, training, funding, and litigation to protect and preserve religious liberty, the sanctity of life, marriage, and the family.