AT ISSUE: There are many facets to economic development. A couple of them were mentioned in last week's column. Carrying on in today's column are some specifics that if a community follows them, your town will be a better place for both you and the visitors to your community.
JIM HAGEN, he's the Jim Hagen from Sisseton, was recently named by Governor Dennis Daugaard to be the secretary of the South Dakota Department of Tourism. It was a good choice considering Jim's background in state government.
At a recent luncheon he described one of those facets I mentioned above. His topic, "Travel: An economic stimulus." And he knew what he was talking about because of his previous experience with the state"s economic development department.
As so many of us worry about getting the economy going again, Jim opens one of the doors that will help make it happen.
"ONE ANSWER IS to invest in our travel economy. Many people don't realize it, but travel and tourism are some of our most important economic drivers. Statewide, travel is responsible for more than $1 billion in direct spending, nearly 30,000 direct jobs and $265 million in tax revenue. Simply put, when people travel, the economy grows, jobs are created and the tax coffers are filled," he told the luncheon crowd.
A question: Did your community get any of that $1 billion?
Hagen then threw out various suggestions that your community should digest. Here are a few examples:
Promote meetings and events. Corporate meetings are a major driver of local jobs and a boost to local spending.
Market to out-of-town visitors. Showcase your community and South Dakota as a premier travel destination.
Attract international visitors. They tend to stay longer and spend more while they are here.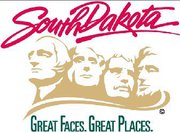 WITH NATIONAL Travel and Tourism Week just behind us, it is not too late for your Chamber of Commerce or commercial club to tag on to the See South Dakota promotion. Just a note to Jim in Pierre or the S.D. Department of Tourism will get you started.
Also tagged to Tourism Week and recently traveling South Dakota were several tourism writers from newspapers from across the country. Their positive stories about our state, back in their home towns, is some of the most valuable publicity South Dakota could have.
Katlyn Richter, spokeswoman for the South Dakota Office of tourism, said that while the western part of the state is more well-known because of tourist attractions such as Mount Rushmore, the eastern portion of the state holds a significant amount of history.
"ABSOLUTELY the western part of the state is so family friendly, but what often gets over-looked in the eastern part of the state is the culture and the history and all the old landmarks that are very important to South Dakota's history," she said.
Travel writers and editors have been invited to South Dakota for years. They learned quickly that there is more to South Dakota than Mount Rushmore and the Black Hills. Who knows? They may have been in your town. You probably didn't even realize they might have been. Did you present a positive image of your community? According to a tourism official, they can relate a story, say of your community, to a dollar value per se in advertising.
A SKEPTIC MAY ASK "Who pays the bill for these writers?"
In the case of the tourism writers' recent visit, some lodging and meals were compensated, an official said. Funding also came from the South Dakota Office of Tourism, Sioux Falls Convention and Visitors Bureau and the Southeast South Dakota Tourism Association.
However, some writers visiting the state refuse any compensation, feeling it may skew their mission to their readers.
P.S. Yes. I'll be happy forwarding the addresses, phone numbers, etc., of South Dakota's three members of Congress:
U.S. Senator Tim Johnson, 136 Hart Senate Office Building, Washington, D.C.
20510; (202)224-5842, Fax: (202) 228-5765; http://johnson.senate.gov/public
U.S. Senator John Thune, U.S. Senate SR-493, Washington, D.C. 20510:
(866) 850-3855, Fax: (202) 228-5429; http://Thune.senate.gov/public
U.S. Representative Kristi Noem, 226 Cannon HOB, Washington, D.C. 20515:
(202) 225-2801; http://noem.house.gov/
A note to all those high school graduates this spring: Congratulations! You are crossing what is probably your first major bridge of your life. But Remember. There will be several other bridges you will need to cross so just a reminder: You should not burn any of them….
Gordon Garnos was long-time editor of the Watertown Public Opinion, retiring after 39 years with that newspaper. Garnos, a lifelong resident of South Dakota except for his military service in the U.S. Air Force, was born and raised in Presho.