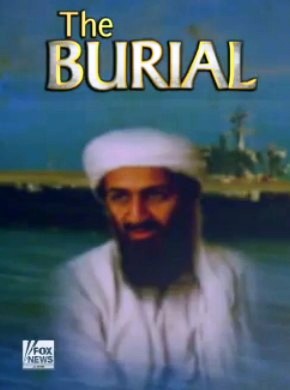 From the beginning of the release of information about the strike on Osama Bin Laden, we were told that President Barack Obama considered a bombing or missile strike to take out Bin Laden.  These are techniques that have been used in the past in similar situations: we dropped tons of ordinance on what we thought was Bin Laden's position in the mountains of Afghanistan in the early days of the war, and we did the same thing when we attempted to take out Saddam Hussein in the early days of the Iraq invasion.
Ultimately, one of the key reasons President Obama decided against a bomb or missile strike was the fact that we would very likely have no physical proof left that we had indeed got Bin Laden and we got the right guy.  There are few opportunities to commend President Obama for anything, but this is one decision for which he should be commended.  He started out being smart, thinking straight…and now he's FUBARed the whole thing with his refusal to release a simple photograph (much less video of the assault) and ever-shifting details about the raid. Even some Obama-supporting liberals believe photographic evidence should be released.
These flimsy excuses for not holding onto the body so the world could see it and test it for veracity, for not releasing a simple photograph of the target, are being further undermined by inconsistent politically correct actions taken by the Administration in the wake of the strike.
Releasing a photograph of the evil man who murdered 3,000 Americans in one day is supposed to incite followers of the "religion of peace" to violence…but the actual killing of said demon is not supposed to incite the followers of the "religion of peace" to violence?  Spare me.
Besides, Reuters has already got its hands on some photographs taken by a Pakistani after the mission of a couple of Bin Laden's followers. I doubt Bin Laden's photo can be much more gruesome than these pics, and these guys were almost certainly followers of the "religion of peace," too, so shouldn't these photos incite other followers of the "religion of peace" to slaughter more innocent people, too? Thanks to a Pakistani photographer and Reuters, there is no even less of a thin excuse not to release a photograph of the world's most wanted man of the last decade.
Holding onto the body longer than the supposed 24 hour burial rule required in Islam in order to demonstrate clearly to the world and to the American people that we got the right guy–this could not be done, lest we incite the followers of the "religion of peace" to kill innocent people, but the actual shooting of this man and some of his aids isn't supposed to incite the followers of the "religion of peace" to kill innocent people?  We bothered to take the body in the first place…only to dump it in the ocean before our allies, or the press, or anyone got a chance to see it?  Please.
We say out of one side of our mouth that Osama Bin Laden was not a good Muslim, that he violated the tenets of the "religion of peace" by slaughtering thousands of innocent infidels and Muslims…yet we go to the trouble of giving him an Islamic-compliant burial–complete with body washing and Arabic recitations–before dumping his body in the ocean?  They guy is supposedly a terrible excuse for a Muslim, yet we give him a Muslim burial?  The guy is supposedly acknowledged even by the followers of the "religion of peace" as a heinous man…yet we give him what can only be described as an honorable burial (instead of wrapping the body in bacon to "honor his accomplishments" and send a message to any other radicals who might think of following in his footsteps)?  Give me a break!
You'll find many of my thoughts echoed in the video below of a discussion between Sean Hannity and Senator Lindsey Graham (R-SC). The one that best sums up this entire inept aftermath of the mission was voiced by Hannity: "There's a belief on the Left that we can placate people that want to kill us."  Indeed, that is the modus operandi on the Left, when the opposite is the truth we need to keep our nation safe: Demonstrate to our enemies that any act of hostility against any American citizen will be met with withering and devastating force that will make it clear to any hostile forces that it just isn't worth it, that you'll visit fire to your lap for even trying.
President Obama started off making some smart decisions. He decided for a surgical strike using special forces rather than a missile strike in order to preserve the body as evidence.  He didn't share our intel or our mission plans with our "allies" the Pakistanis who almost certainly would have managed somehow to leak this to Bin Laden's people.  Obama didn't let the fact that we were flying into an allied nation's airspace unannounced stop this mission. For these decisions, Obama showed common sense and courage that are almost unheard of on the Left.
Then he screwed up the resolution of the entire decade-long hunt with obfuscation and political correctness.  Thank God the butcher known as Osama Bin Laden is dead, but what a pity President Obama managed once again to leave a bad taste in our mouths and uncertainty in our minds with ineptitude.
[youtube]http://www.youtube.com/watch?v=CPtX72PoIjA&feature=youtube_gdata[/youtube]