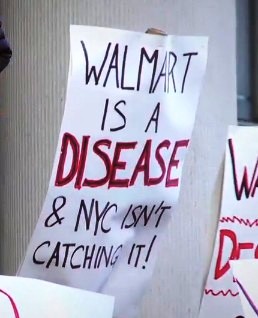 I shop at Wal-Mart at least once a week. I love Wal-Mart. The folks are friendly there, from the greeters at the front door to the floor staff to the cashiers. They have a huge stock so you can usually find what you're looking for and find it at a great price.
Like many Americans, I don't like the fact that Wal-Mart has so many good made in an oppressive, belligerent, communist country we call China, but it's hard to find a store that isn't stocked with cheap Chinese goods anymore. Of course, a great deal of the blame for this is because our government made the decision a number of years ago to give Favored Nation trade status to China and normalize trade relations with this Marxist state. Once the government opens the floodgates, it's hard to stop the flow of cheap goods from a nation with more than a billion people who work for peanuts.
But there is a nationwide war against Wal-Mart, and "Chinese goods" is usually at or near the bottom of the list of reasons for this war.
Rapid City has had a Wal-Mart as long as I can remember. Something like seven or ten years ago, Wal-Mart proposed opening a second store in Rapid City. We could certainly use one, because it's rare that our one Wal-Mart isn't elbow-to-elbow with people. A great deal of effort was expended between the Wal-Mart folks and Rapid City government in planning a second store…but plans eventually fell apart. It seems some people were dead-set against a second Wal-Mart in town.
Did they loathe the idea of greater access to affordable goods? Did they hate the idea of more jobs in Rapid City? No, those were secondary considerations for the opponents of the second store. Some had understandable reasons for opposing the new store, but still others had more ulterior motives for opposing Wal-Mart.
I can understand the concerns of the small business owner who sees Wal-Mart as a threat to their livelihood. The truth is, that is probably right. When a person can go to one store and get 20 things they need and get them cheaper than they could get them by shopping at three different smaller stores to get the same 20 things, it makes sense that the consumer will bypass the smaller store for the bigger one. It just makes sense. I know a lot of small business owners and I'm sympathetic to their situation. But at the same time, we can't allow simple free market forces to seduce us into leveraging the power of government against the freedom of another–even if the "another" is a large company like Wal-Mart. In America, our values state we don't unfairly treat people or businesses just because they are large or small; we treat everyone the same.
But there are others who oppose Wal-Mart (along with the cheaper goods and more jobs Wal-Mart brings) because they have a little too much Marxism in their veins. You see, Wal-Mart is one of the few very large companies that doesn't have unionized workers…and that galls liberals worse than a bad case of taco heartburn. Leftists have made a number of attempts over the years, sometimes leveraging the power of government and sometimes not, to force Wal-Mart to unionize its workers. But that has not happened, and that makes Wal-Mart a villain in the eyes of many liberals.
Reason.tv has an enlightening video of some of the arguments made by Leftists when Wal-Mart began looking to open stores in the New York and Washington D.C. area.
Claiming that Wal-Mart employees don't make a "living wage," (all the employees I know at Wal-Mart are still alive, so they must make a wage they can live on) they would rather see no wage than a low wage.  Of course, a reasonable person can't expect to make a large wage from doing work that requires little skill and training–and I'm not saying that to demean the work, just stating a simple economics fact.
These people are so slavish in their Marxist attitudes they would prefer no jobs to non-union jobs. I'm sure this dedication to looking out for "the little guy" will be of great comfort to the man or woman who just wants a job so they can pay their bills and take care of their children.
One woman even claims Wal-Mart is bad because it will present an opportunity for children to come in and shoplift, then get caught and get a criminal record. How dare Wal-Mart ruin these kids' future this way?
Well, as you'll see in this video, like most things liberals say, the War on Wal-Mart by the Left makes no sense and hurts the people they purport to protect.
That's why I'll continue to patronize Wal-Mart–and maybe in two locations, since it looks like the latest attempt to open a second Wal-Mart here may succeed.  In many ways, Wal-Mart is a symbol of the American way of life, and I enjoy helping them thrive in the face of Marxist opposition…even as I save money on my shopping!
[youtube]http://www.youtube.com/watch?v=0lMfoA5ZozE&feature=youtube_gdata[/youtube]