The White House released a new "Certificate of Live Birth" today, but (surprise) it may not resolve for many the question of where Barack Hussein Obama was born.
What I find very interesting is that this new "Certificate of Live Birth" looks a lot like the one released during the campaign which placated no one because it looked so patently phony.
This is the one released during the campaign:
This is the one released by the White House today: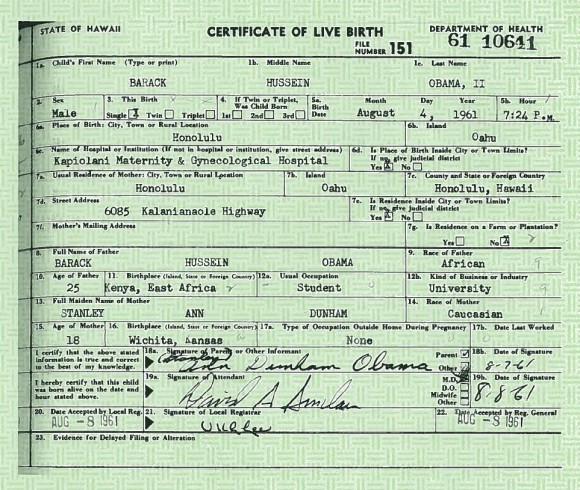 Notice that it is on the same green-patterned paper as the bogus-looking certificate released three years ago.  This one does have signatures that seem to belong to his mother and the attending doctor, and the signatures are dated in August 1961.
But this new document looks quite different from this certificate of live birth for an unquestioned female in Hawaii in August of 1961.  My wife and I were born in separate states in the late 1960s and both our birth certificates have this same black background with white text. These black-background, white-text birth certificates often look as if they were written on a chalkboard and photographed.  Having served in the military alongside people from virtually every state in the union and having had opportunity to see many of my friends' birth certificates, the kind with the black background are the only kind of birth certificate I had ever seen…until the green one the Obama campaign produced in 2008.
A commenter at Free Republic has pointed out that if you download the pdf from the White House website, open it in Adobe Illustrator and release all clipping masks, you can see that the basic text of the certificate has been layered onto the green paper background.  Assuming this was not an incredibly sloppy Photoshop-type job, why it was necessary to put the text of the certificate on this green paper and provide a copy of that is anyone's guess.  Also, the document released today says below the main portion "APR 25 2011 I certify this is a true copy or abstract of the record on file in the Hawaii State Department of Health" with the signature of Alvin T. Onaka.  Though this document provides more information than the one in 2008, we essentially only have the same kind of artificially reproduced facsimile (using the term loosely) we got in 2008.  Why haven't they simply released the original birth certificate that everyone uses for various legal purposes in the United States?  Again, anyone's guess.
Leftists who just want President Obama to be able to move forward with his goal of fundamentally transforming the United States into a Marxist enclave claim the only reason people are asking about his birth certificate is because they are racists, bigots, homophobes, torture kittens and are allergic to peanuts.  But though I personally don't think there is much to be gained by continuing this debate more than two years into his presidency, there are valid reasons why people have doubts.
After all, we know that his mother was traveling overseas while pregnant with Barack near the date of his birth. We also know that his father is Kenyan.  We also know that Barack Obama spent many of his childhood years overseas. We also know that many of his attitudes and opinions are frankly more in harmony with foreign ideas than with American ideas.  When you consider all these things, it is quite natural for people to wonder if he really was born in the United States. Add three years of obfuscation and hiding his birth certificate, and the doubt factor rises even higher.
Back to the issue of the birth certificate though, I'm beginning to seriously doubt that this issue will ever be truly settled.  At this point, "birthers" are likely to be dubious of anything that might be released by Obama as faked, Photoshopped, etc.–and given the past history of obfuscation, their doubts have some validity.  On the other hand, Obama and his supporters may rightly doubt whether anything will satisfy the doubters, and so decide never to show us the real birth certificate.  In fact, they may just be getting a royal kick out of tweaking conservatives over the whole thing, while there are so many pressing issues facing our nation right now that cannot wait to be dealt with.
It would be nice, though, if we could have some reasonable assurance of (a) honest and (b) adult behavior that (c) puts the welfare of the country first from the Left on this and other issues, but a long track record of the opposite behavior makes that doubtful.