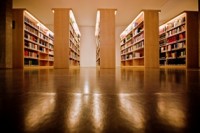 Regular commenter ThisOldSpouse provided a reference last night in another discussion that I thought merited its own examination. It's an article at Virtue Online by Ronald G. Lee (originally published at the New Oxford Review and reprinted there by permission) entitled "The Books Were a Front for the Porn: The Truth About the Homosexual Rights Movement."
Lee tells the story of a homosexual book store in Austin, Texas called Lobo's.  The front of the store had shelves lined with all sorts of books on "gay" fiction, gay history, gay memoirs, and all sorts of other books written by homosexuals or about homosexuals. Several rows behind these works of literature was another section which was out of view from the window: the pornography section.
Interestingly, Lee points out, you never saw anyone in the book section; they were all in the back checking out the porn. So why would the store owners waste all that money on books no one wanted to look at much less buy? It bought them respectability. It bought them legitimacy. It bought cover and concealment for the real purpose of the store.
Lee's article is a lengthy one, but most assuredly worth the read. If you are a homosexual, I would encourage you to read it for some insight into your world that you may never have even considered.
If you are a heterosexual who has been taken in by the "it's about fairness, it's about equality, it's about loving everyone" pitch from the homosexual movement, this is the "look behind the curtain" you desperately need in order to fill you in about the hidden truth.
If you are a heterosexual who is already well-informed about the threat the homosexual agenda poses to our society (and to people caught up in this lifestyle), you may still gain valuable insights by reading this article–insights you can take with you to help alert others to the truth. This article provides the insight into the self-deception and public-deception which is at the core of the homosexual agenda, told my someone who lived inside that world for many years.
Here are just a few quotes from the article I thought were particularly revealing:
…There are millions of well-meaning Americans who support gay rights because they believe that what they see looking in at Lobo's is what is really there. It does not occur to them that they are seeing a carefully stage-managed effort to manipulate them, to distract them from a truth they would never condone…

…Ralph McInerny once offered a brilliant definition of the gay rights movement: self-deception as a group effort. Nevertheless, deception of the general public is also vital to the success of the cause…The gay Christian movement relies on a stratagem that is as daring as it is dishonest…

…This is how it works. McNeill reinterprets the story of Sodom, claiming that it does not condemn homosexuality, but gang rape…Getting at the truth about Sodom and Gomorrah, or correctly parsing the sexual ethics of St. Thomas, was never really the issue. Winning admittance to Holy Communion was the issue…

…Why would McNeill pretend to believe that homosexuals should restrict themselves to sex within the context of monogamous relationships when his life demonstrates that he did not? I can think of only one reason. Because he knew that if he told the truth, his cause would be dead in the water…

…On the basis of evidence no stronger than wishful thinking, Andrew Sullivan wants us to believe that legalizing same-sex "marriage" will domesticate gay men, that all that energy now devoted to building bars and bathhouses will be dedicated to erecting picket fences and two-car garages. What Sullivan refuses to face is that male homosexuals are not promiscuous because of "internalized homophobia," or laws banning same-sex "marriage." Homosexuals are promiscuous because when given the choice, homosexuals overwhelmingly choose to be promiscuous. And wrecking the fundamental social building block of our civilization, the family, is not going to change that…

… I met a man online whose fondest wish was to be spanked with a leather wallet. It had to be leather. And it had to be a wallet. And he needed to be spanked with it…So, is the desire to be spanked with a leather wallet a "sexual orientation"? If not, how is it different?…

…What I find suspicious is that the media ignore the existence of people like the two Harrys. The unhappiness so common among homosexuals is swept under the carpet, while fanciful and unrealistic "role models" are offered up for public consumption. There is at the very least grounds for a serious debate about the proposition that "gay is good," but no such debate is taking place, because most of the mainstream media have already made up their (and our) minds…

…I am convinced that many, if not most, people who are familiar with the lives of homosexuals know the truth, but refuse to face it…It was about meat, and unless you were a good cut, don't bother coming to the supermarket…

…I tried to date but, as usual, experienced the same pattern that characterized all my homosexual relationships. The friendship lasted as long as the sexual heat. Once that cooled, my partner's interest in me as a person dissipated with it…

…The homosexual rights movement is rotten to the core. It has no future. There is no life in it. Sooner or later, those who are caught up in it are going to wake up from the dream of unbridled desire or else die. It is just a matter of time. The question is: how long? How many children are going to be sacrificed to this Moloch?…
Be sure to read the entire article to get the full context of each of these  revealing statements.
Are there homosexuals who will scoff, mock and deride Lee's account? Of course. Lee has long since come to terms with the truth about this bankrupt lifestyle; there remain many homosexuals who aren't even close to grappling with truth and reality.
There was a time nearly 20 years ago when I was drinking more than half a fifth of vodka a night, living a heterosexually promiscuous lifestyle that was not unlike a particular Confederate Railroad song. If you had asked me, I'd have said I was having the time of my life. I believed it, and I'm sure a lot of my friends believed it, too. But not all of them, and eventually, I didn't believe it either.
I'm responsible for my own actions.  I now accept responsibility for them before God (though thankfully by the grace of the sacrifice of Jesus Christ I don't have to pay the full penalty for them). But it sure would have been nice if even a few of the people who knew me would have had the courage to say, "Bob, what you're doing is going to wreck your life.  Bob, what you're doing is wrong." Few ever did, and during the last couple of years of that hell-bent ride toward a cliff, none did.
I don't know everything, but I did learn some valuable lessons from having my life fall apart–thank God, because the price I paid was high enough that I'm glad I at least got something useful out of the deal.
One of the things I learned is that you don't do people any favors by remaining silent while they destroy themselves.  It isn't a loving act to pat someone on the back for their sinful, self-destructive behavior and tell them "It's a choice" or "You were born that way" or "I accept you the way you are" (meaning that you accept the bad behavior nonjudgmentally).
You also don't do any favors to people who might be teetering on falling into this lifestyle.  Seeing bad behavior accepted and affirmed tells the swaying person that it's okay to go with the flow and live that way–creating another suffering victim for the grist mill.
You don't do society any favors either by whitewashing bad behavior.  Society (but corporately and the individual members) is left to deal with the destruction wrought by out-of-control lives of drunks, homosexuals and other self-destructive behaviors: lost productivity, broken families, diminished respect for the institution of marriage, hurting children, poor scholastic performance, domestic violence, assaults, increased medical costs, and so on down the line.
So isn't it time we stopped being cowards, peer-pressure-driven weaklings who are too afraid of harsh words or not being liked to do the right thing?  Even if we don't love the individual caught up in the bad behavior enough, don't we care enough about society and the innocents in it to do the right thing?
If you won't, who will?