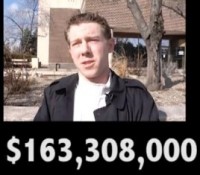 Award winning journalist and radio talk show host Shad Olson has released a new video report about some disturbing things going on in Rapid City that you probably don't know about.
Last year a military veteran and young student at the South Dakota School of Mines & Technology named Jordan Mason ran for city council in Rapid City, and was elected. He has wasted no time in working hard to repay the trust invested in him by the taxpayers of Rapid City.
At a South Dakota Tea Party Alliance meeting a few weeks ago, Alderman Mason was a featured speaker and surprised the crowd by telling them that Rapid City has a $163,308,000 debt. I don't know about you, but I had not heard even a whisper of this kind of debt at city hall.
Mason has also been looking at Rapid City's involvement with the Municipal League and the League of Cities. It seems socialist billionaire George Soros has been deeply involved with many of the projects being promoted by the League of Cities.
These include:
Special rights for homosexuals
Local tax increases
Gun control
During the recent South Dakota legislative session, Olson approached a lobbyist for the Municiple Leauge at the state capitol in Pierre, only to watch the lobbyist immediately bolt from the camera.
Do we want this kind of liberalism, taxation, regulation and control in our back yard here in Rapid City? I don't know about you, but I don't. I enjoy being free. I enjoy making decisions for myself about my own life and my own property.
For these and other informative topics, tune in to the Shad Olson Show in Rapid City, Belle Fourche, Valentine, NE and Sundance, WY each weekday or catch the podcast at his website.