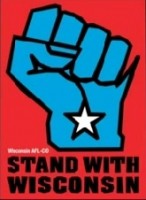 The Democrats in Wisconsin have been so radical in their efforts to maintain current levels of government largess and the power of Marxist unions, even card-carrying communists like Scott Marshall, Communist Party USA Vice Chair, are surprised.  But pleasantly surprised.
From the beginning the Leftist operation in Wisconsin to fight fiscal responsibility has been Marxist in nature.  They have employed all the classic American Marxist tactics: childish behavior,  threats of violence, lying and deception, promotion of envy, preying on the ignorance and self-indulgent mindset of people whose idea of fairness is summed up as "IwantIwantIwant!"
It doesn't matter what a sweetheart deal these Marxists already have at the taxpayer's expense; they will fight tooth and nail to maintain their full place at the trough, and the taxpayer's interest is just trampled under foot.
Elected representatives–even Democrats–should know better than all this nonsense.  They should be capable of a higher standard and should be held to it.  Yet Democrat lawmakers have joined in these games, even promoting them and adding to them with their own irresponsible behavior.
And of course, communists–the most dangerous and virulent form of Marxism–love it.  The actions of the Wisconsin Democrats (usually more socialist than communist) have exceeded the expectations of the communists, who were also heavily involved in the Madison Mayhem.
It's important that we know what we're supporting when we get behind this cause or that cause.  A growing number of Americans are realizing that when they support unions, the politics of class envy, and actions like this, they are supporting Marxism–a philosophy completely at odds with the American way of life and the United States Constitution.