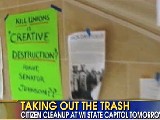 I'm pretty sure it's more than a little "PR coup," but it's definitely a good one.
The socialists have been showing us their underwear in Madison, Wisconsin as they demanded their full cut of the loot in the middle of a budget shortfall, and now they've left behind a mess…as socialist groups usually do.
I can remember seeing on the news as a kid when socialists held one of the first Earth Day events, the massive amounts of trash that was left behind in the wake of their effort to save the planet.
In fact, as we've seen from many Leftist protests, it's pretty normal for these most conscientious of environmentalists, these most sensitive of Leftists, to leave behind massive messes for other people to clean up.
This one in Madison is apparently no different, and the Tea Party folks there are going to clean up behind the socialists. It's a good thing to do, and it's symbolic of what patriotic Americans have been doing as long as socialists have been infesting our country…and it's a good PR coup as well.