FOR IMMEDIATE RELEASE

February 4, 2011

FOR ADDITIONAL INFORMATION

Contact:  Jason M. Gant (605) 773-3537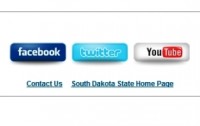 SECRETARY OF STATE PUBLISHES STATE GOVERNMENT'S FIRST POLICY GOVERNING
SOCIAL MEDIA AS IT LAUNCHES FACEBOOK, TWITTER AND YOU-TUBE WEBSITES
South Dakota Secretary of State Jason Gant announced that his office's communications will add Facebook, Twitter, and You-tube and other social media tools as part of a comprehensive effort to enhance voter education and to inform people of the mission of the Secretary of State.
"Since South Dakota leads the nation in Facebook use on a per-capita basis, I believe it is a valuable service to provide to South Dakotans," said Secretary of State Gant.
"Our mission includes working with counties, cities, schools and other government entities to educate election officials on best practices in conducting elections. Our election schools provide great information for those who conduct elections. These information sessions can now be filmed and posted as on-line video for later reference."
"A few other offices in state Government currently utilize some of these communication tools," Secretary Gant said.  "However, as the official keeper of the state record, we knew that we faced special challenges, as we're very sensitive to ensuring that everything we do meets the highest standard for openness, record retention, and fairness in dealing with taxpayers."
In accordance with this, Secretary of State Gant has created and published South Dakota state government's first Social Media Policy.
The Secretary of State's Social Media Policy details policy on eight areas of concern; Employee Access, Account Management, Acceptable Use, Employee Conduct, Content, Security, Disclosure and Retention, and Citizen Conduct.   "Because some use of social media can blur the lines between personal and professional use, we wanted to lay out specific guidelines on access, and who can create office related accounts.  Since we work very closely with the public in everything we do, we're also very concerned with what acceptable content is, and how we conduct ourselves," Gant said.
"With regard to our duties as record-keeper, we also had to balance the immediacy of social media communications with open government concerns.  All social media content will be retained in accordance with our record retention policies, including information we might need to remove. Information we need to remove from the website will detail the reason it was removed in accordance with our policies.
The Secretary of State's Social Media Policy, as well as links to its Social Media websites are available through its main website at www.sdsos.gov.
Social Media Policy of the
South Dakota Secretary of State
Employee Access
Employee use for official agency interests: An employee's use of social media is for the express purpose of communicating the agency's broad interests or specific programmatic and policy interests solely as authorized by the Secretary of State and directed by supervisory staff.
Employee use for professional interests: Professional use implies that an employee's use of social media is for the purpose of furthering their specific job responsibilities or professional duties through an externally focused site.  Reasonable use in this manner is allowable pursuant to the State of South Dakota's official technology use policy.
Employee use for personal interests: Accessing social media for personal interests has nothing to do with an employee's job duties for the Secretary of State's office, and such utilization during working hours is not permitted.
Employees are cautioned that any personal use of social media outside the office setting should not cast the office or staff in an unprofessional light.   Personal websites on subjects that are governed by the Secretary of State's office (i.e., elections, pistol permits, corporations, etc.)  are not allowed.
Social Media Account Management
All authorizations for employees wishing to create an account for the benefit of the agency will be in writing, with the Secretary of State (SOS) or his designee as the authority to oversee and confirm decisions. In this role, the SOS will evaluate all requests for usage, verify staff being authorized to use social media tools, and confirm completion of online training for social media.
The SDSOS will be responsible for maintaining a list of all social networking application domain names in use, the names of all employee administrators of these accounts, as well as, the associated user identifications and passwords currently active.
Acceptable Use
Employees should follow regulations and policies pursuant to the State of South Dakota's official technology use policy.
Employee Conduct
By identifying yourself as an employee of the Secretary of State, you are creating perceptions about your expertise and about the State by legislative stakeholders, customers, business partners and the general public. Employees need to be sure that all content associated with the office is consistent with your work and with the office's values and professional standards.
A summary of the key points of ethical Social Media conduct are reproduced below and will be followed by all employees utilizing social media as part of their assigned job duties:
a. Customer protection and respect are paramount.
b. We will use every effort to keep our interactions factual and accurate.
c. We will strive for transparency and openness in our interactions and will never seek to "spin" information for our benefit.
d. We will provide links to credible sources of information to support our interactions, when possible.
e. We will publicly correct any information we have communicated that is later found to be in error.
f. We are honest about our relationship, opinions, and identity.
g. We respect the rules of the venue.
h. We protect privacy and permissions.
Content
Assigned staff are responsible for establishing, publishing, and updating their pages on the office's social media web sites. Although it will be the staff member's responsibility to maintain the content, the Secretary of State or his designee will monitor the content on each of the agency pages to ensure 1) a consistent message is being conveyed and 2) adherence to the Social Media Policy. The Secretary of State also reserves the right to direct staff to modify social media content based on best practices and industry norms.
Security
The State of South Dakota, the Secretary or his designee may limit Internet access Social Media web sites according to the state's acceptable use policy, while allowing authorized Users to reach content necessary to fulfill the business requirements.
Limitations may include:
Allowing Internet access to Users who are specifically authorized.
Preventing unnecessary functionality within Social Media web sites, such as instant messaging (IM) or file exchange.
Minimizing and/or eliminating the addition of web links to other web sites, such as "friends", to minimize the risk of exposing a government user to a link that leads to inappropriate or unauthorized material.
Enable technical risk mitigation controls to the extent possible. These controls may include filtering and monitoring of all Social Media web site content posted and/or viewed.
Disclosure and Retention
All social network sites and entries shall clearly indicate that any articles and any other content posted or submitted for posting are subject to any applicable public disclosure laws as well as the record retention requirements of the State of South Dakota.
Content submitted for posting by an employee that is deemed not suitable for posting by a social networking moderator because it is not topically related to the particular social networking site objective being commented upon, or is deemed prohibited content shall be retained pursuant to the records retention schedule along with a description of the reason the specific content is deemed not suitable for posting.
Citizen Conduct
Users and visitors to social media sites shall be notified that the intended purpose of the site is to serve as a mechanism for communication between the Secretary of State and members of the public. Social media site articles and comments containing any of the following forms of content shall not be allowed:
a) Comments not topically related to the particular social medium article being commented upon;
b) Comments in support of or opposition to political campaigns or ballot measures;
c) Profane language or content;
d) Content that promotes, fosters, or perpetuates discrimination on the basis of race, creed, color, age, religion, gender, marital status, status with regard to public assistance, national origin, physical or mental disability or any other class protected by state or federal law.
e) Sexual content or links to sexual content;
f) Solicitations of commerce;
g) Conduct or encouragement of illegal activity;
h) Information that may tend to compromise the safety or security of the public or public systems; or
i) Content that violates a legal ownership interest of any other party.
These guidelines must be displayed to users or made available by hyperlink. Any content removed based on these guidelines must be retained, including the time, date and identity of the poster when available.
In the case of any public comments violative of items g) or h) under this section, the Secretary of State reserves the right to inform any appropriate authorities.