Archive for February 12th, 2011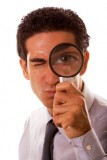 The "scientific" world view is a rather fragile one, in which there is little room for debate outside the accepted parameters of prevailing scientific dogmas. Those scientists with the courage to challenge these dogmas quickly find themselves blacklisted – relegated to the fringes of the profession, unable to secure prestigious positions in the community and unlikely to get their work published in prominent journals. This is hardly conduct befitting a field of study that prides itself on the objective pursuit of truth.

The idea of "gay conservative" is an oxymoron. "Gay" is everything that "conservative" is not. It's a worldview that is man-centered rather than God-centered. It's why, like all liberals, they use language to create reality, rather than appreciate that words have meaning that reflect reality.