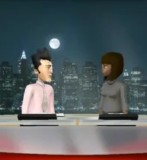 Robot Theater features a discussion between a liberal and a normal person about the blood smear campaign from the Left against Sarah Palin, the Tea Party movement and other conservatives in the wake of the Arizona shooting last weekend.
It's about as close as you're going to get to rational comments out of a liberal on this issue.
---
Try us out at the new location:

American Clarion

!
---