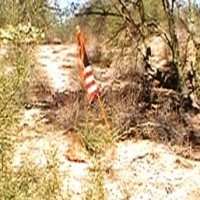 Though Leftist blogs and commentators wasted absolutely no time in declaring the gunman who shot Rep. Gabrielle Giffords (D-AZ) was a Tea Party conservative (before anyone even knew his name), I held off on making any comments until a little more was known. It was automatically assumed that, since Giffords was a Democrat and that a (gasp) gun was used, the shooter must be an evil Tea Party conservative type.
Now details are starting to trickle in.
Fox News reports his name is Jared Loughner, though some other accounts now say it is Jared Laughner.
Business Insider reports he is an Arizona native and an Afghanistan war vet.
Some of the information coming out about him could fit in the profile of a conservative, but most of it fits the profile of a liberal…if not an outright wackjob that defies political categorization.
Business Insider also reports that his YouTube profile lists some of his favorite books including Animal Farm, Fahrenheit 451, Communist Manifesto, and Mein Kampf. (Though I've read all those, I don't think I'd call ANY of them my favorite).
A WorldNetDaily article quotes someone on Twitter who says they knew him in high school and college, and that he was very liberal, a Leftist.
Another report says one of his videos contains railing about a "second United States Constitution," and something about currency. He says he won't pay debts with a currency not backed by gold or silver, and that he does not trust in God.
Another video below shows him in what appears to be Islamic garb and burning an American flag. That same video also contains an obnoxious heavy metal song that says something about "bodies." UPDATE: Though Atlas Shrugs said Fox News stated, others have now pointed out that this particular video was merely one listed as a "Favorite" on the shooter's YouTube profile. The Atlas Shrugs website does still state that the figure in the video is supposedly the shooter (video taken by a friend?).
Still another of his videos talks about mind control and also says that religion is a form of mind control. The video has background music that sounds like a hip-hop version of some sort of Islamic beat.
UPDATE: CNS News reports a former classmate of the shooter says he was a "pot smoking loner."
UPDATE: A Tweet from Stars and Stripes (the official newspaper of the U.S. military) earlier stated that Army officials have no record of military service by this individual (it is being alleged that he is an Afghanistan veteran).
UPDATE: The Arizona Daily Star reports the Army rejected Loughner as a recruit in 2008.  Not surprising, given everything that seems to be coming out about this loon.   Loughner's definitely been listening to Rush Limbaugh and Sarah Palin, hasn't he (wink, wink)?
This guy seems to be thoroughly nuts. I don't know of any remotely sane liberal or conservative who would approve of shooting innocent people as he has done.  So blaming people who had nothing to do with the crime as Leftists have rushed to do is of limited, at best, genuine value.
However, Leftists do in fact realize that, if they can spit it right and spin it often enough and consistently enough, they hope to successfully brand conservatives and Tea Party patriots as being responsible for this crime.  They will (and already are) saying that because conservatives have refused to go along with their socialist agenda, we have been "divisive" and "full of hate" and have thus created a "climate of hostility" that has fostered such crimes.
Never mind that conservatives are always the first to champion the law-abiding cause.  Never mind that conservatives are always the first to lift up the value of innocent human life.  Never mind that conservatives are always the most reliable advocates of law and order. Never mind that conservatives are always the ones who are toughest on crime.
No, facts and logic are unimportant (are liabilities, really) when liberals see something they believe they can spin to put their ideological enemies at a disadvantage.
Remember when Republicans swept congress in 1994 and the Democrats lost control of the entire congress for the first time in 40 years?  They were beside themselves.  And when that nutjob Timothy McVeigh bombed the federal building in Oklahoma City, what was the first blame-game played by the Clintonistas and other Leftists: blame the conservatives.  Blame Rush Limbaugh and "hate radio."  Blame all those evil Right-wingers who refused to acquiesce quietly to their socialist agenda.
Back then, it worked.  It stopped the conservative agenda cold, and turned a Republican congress that was finally turning the United States back to its freedom and limited government roots into…a bunch of impotent ninnies afraid of their own shadow, lest someone call them names.
Of course, back then, Fox News was just getting off the ground, there was no real internet community to speak of, no blogosphere and no conservative news conduit.  That kind of crap isn't going to fly today.  Oh, the Left will definitely try (they already are), but conservatives aren't going to cower in the corner and give up like we did in 1995.
So if you'd like to change your mind and start acting responsibly, you liberals, and blame the person who committed this terrible act, fine.  But if you want to shamelessly use the blood of innocent people to fuel your vehicle to try and shut down people you cannot best in an ideological contest of wits, go for it.  Show yourselves for the shallow, shameless curs that you are.  And get ready to have your nose bloodied bad, because conservatives aren't going to meekly put up with it this time.