Listen to the author read this article
You may be aware of the Manhattan Declaration of November 2009.  Chuck Colson, along with Princeton professor Robert George and Beeson Divinity School professor Timothy George drafted the Manhattan Declaration as a statement on the importance of the Christian voice in the public square as it relates to the sanctity of human life, marriage and religious liberty.  In part, the Declaration says,
"Because the sanctity of human life, the dignity of marriage as a union of husband and wife, and the freedom of conscience and religion are foundational principles of justice and the common good, we are compelled by our Christian faith to speak and act in their defense. In this declaration we affirm: 1) the profound, inherent, and equal dignity of every human being as a creature fashioned in the very image of God, possessing inherent rights of equal dignity and life; 2) marriage as a conjugal union of man and woman, ordained by God from the creation, and historically understood by believers and non-believers alike, to be the most basic institution in society and; 3) religious liberty, which is grounded in the character of God, the example of Christ, and the inherent freedom and dignity of human beings created in the divine image."
Despite fundamental theological disagreements, a coalition of Protestant Christian leaders as well as Orthodox and Catholic leaders came together in agreement on the principles of the Declaration.  The Manhattan Declaration website is collecting signatures in support of the Declaration and has almost half a million signatures to date.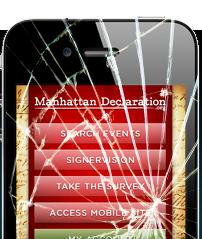 To expand the Declaration's reach, an Apple i-Phone and i-Pad application was created and submitted to the Apple apps store, and it was initially accepted with no problem.  However, back in early December, Apple notified Chuck Colson that the application was being rejected.  As Mr. Colson wrote in the San Francisco Chronicle,
"I got the news on my iPhone.  Apple had pulled the Manhattan Declaration app from its app store. The reason? According to Apple's PR department, the Manhattan Declaration… was 'offensive to large groups of people.'

Well, that was news to me. After all, the Manhattan Declaration had received a 4-plus rating from Apple, meaning it was free from objectionable content. But over the Thanksgiving holiday, some advocates of same-sex marriage petitioned Apple, saying that the Manhattan Declaration promoted hate and homophobia. So Apple pulled the app.

It was a triumph of political correctness and ad hominem attack over civil discourse. And I am saddened – and very concerned – that a pioneering company like Apple, whose products are used by untold millions to interact and communicate, chose to shut down the dialogue over one of the defining cultural issues of our time."
I have read the Manhattan Declaration, and it unapologetically defends Biblical truths, and it treats with the utmost compassion those people who are trapped in the homosexual lifestyle.  Nowhere does it disparage homosexuals, rather it proclaims and upholds the inherent dignity of all people, because we are all made in the image of God.  If anything, the Declaration treats homosexuals with kid gloves in that it stops short of calling homosexual behavior the abomination that God considers it to be.
The Declaration's organizers made some slight modifications to the application and resubmitted it to Apple, but it was again rejected.  Jim Daly, of Focus on the Family, in writing about this disturbing development said,
"I can assure you that the app is no more objectionable than any other existing one that includes the Bible, or other religious texts that speak to moral issues. To qualify it as offensive as compared  to other available apps strikes me strange. In fact, you might be shocked to know that though Apple has a long-standing policy against pornography, there are many sexually explicit and otherwise offensive apps currently approved for purchase. Discretion and good taste prevents me from even naming some…

Apparently, 'offensive' is all in the eye of the beholder. Ironically, the genesis of the Manhattan Declaration centered on a concerted effort to talk openly about mainstream Christian issues in a thoughtful and civil manner.

In my opinion, in rejecting this app, at best, Apple and its officials have confused or misinterpreted a central tenet of American liberty and free speech.  At worst, this denial is an attack akin to intellectual bullying."
Here's a taste of the future about which I keep warning you.  I warned you about the so-called "hate crimes" legislation being a dangerous first step toward outlawing any speech which is determined by anti-Christians to be "hateful."  Here it is in practice.  Apple is bending the knee to a small minority of homosexual activists who are offended by the Word of God and who want to eradicate any presence of Christianity from the public debate.
As Mr. Colson points out in his column,
"Apple has every right to decide what to offer in its app store and what not to offer. But it is chilling that such a culture-shaping company would so quickly take sides in a debate.

There is something more at stake here than whether Apple hosts a particular app; whether or not we are capable as a society of maintaining the free marketplace of ideas. Because the open and civil exchange of ideas is essential to democracy and a free society. The kind of society that has produced entrepreneurial geniuses like [Steve] Jobs."
Yes, Apple certainly has every right to do business in the way it sees fit, and if that principle applies to Apple, then it should also apply to Christian business owners who choose to do business in the way they see fit.  If Apple can refuse to accept the business of Christian products because Apple believes they're offensive, then Christian business owners can refuse to accept anti-Christian business which they find offensive.  It's only fair, right?  So, no more homosexuals suing Christian photographers for refusing to photograph a homosexual ceremony.  After all, what's good for the Apple goose is good for the Christian gander.
This move by Apple in caving to the anti-Christians is a partial example of what we mean when we speak of the radical homosexual agenda.  I've heard people, even so-called conservative radio commentators, say, "What radical homosexual agenda?  There's no such thing."  Well, here you go.  The movement to purge Christianity from public discourse is part of it, because these militant homosexuals can't stand for the truth about their lifestyle choice to be declared.  They desperately and aggressively try to force mainstream acceptance of homosexuality on the rest of us.  One problem they have is that they cannot change our hearts and minds, and although they have made damaging headway in the minds of many young people, it still remains that the majority of people in America rightly understand that homosexuality is a deranged and unhealthy lifestyle choice.
Here again I must refute the leftist propaganda term "homophobia."  As I wrote in a previous column,  the word "homophobia" is simply a creation coined by the radical left to silence critics of the movement to push the mainstreaming of homosexuality (the Islamists copied this tactic in creating their own fake word, "Islamophobia").  By creating a bogus term which includes the root word "phobia," they attempt to imply that anyone who opposes homosexuality has some kind of neurosis, an irrational fear, a mental problem.  The word "homophobia" is a farce, and it's too bad that it was effective in intimidating Apple into siding with a tiny minority of the American population over the greater majority of Americans who oppose the mainstreaming of homosexuality.
The leaders of the Manhattan Declaration have asked those of us who disagree with Apple's poor decision to sign a petition urging Apple to reinstate the Manhattan Declaration application. Focus on the Family's Jim Daly is also asking us to contact Apple Corporation's Steve Jobs to ask that the application be reinstated.  In light of the precarious state of our American culture, I believe it's the least we can do.
Gina Miller, a native of Texas, is a radio disc jockey. She also works with her husband installing and repairing residential irrigation systems and doing landscaping on the Mississippi Gulf Coast.