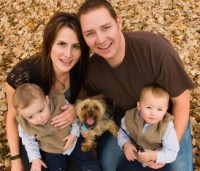 CNS News and the Family Research Council report some extremely disturbing findings.
According to the "Index of Belonging and Rejection" report by Dr. Pat Fagan of the Family Research Council's Marriage and Religion Research Institute, less than half of American children are growing up in intact homes where both parents are present.
The CNS News article summarizes some of the findings by ethnic background:
— 62 percent of Asian-American teenagers live with both married parents.
— 54 percent of white youth live with both parents.
— 41 percent of teenagers from multiracial family backgrounds live in intact families.
— 40 percent of Hispanic teenagers nationwide live with both parents.
— 24 percent of American Indian and Alaskan Native adolescents — fewer than one in four — have lived with both married parents throughout childhood.
— 17 percent of African-American youth — fewer than one in five — live with both married parents.
In case you're liberal and don't really care about the deterioration of the family, you should stop and think about the consequences. Even if you think moral decisions have no bearing on the "real world," you couldn't be more wrong.
"Children in broken homes are more likely to be poor or welfare-dependent. They enjoy less academic achievement and less social development, have more accidents and injuries, and have worse mental health and more behavioral problems. These children also have worse relationships with their parents and are more likely to reject their own spouses later.

"The culture of rejection burdens communities with higher levels of poverty, unemployment, welfare dependency, domestic abuse, child neglect, delinquency, crime and crime victimization, drug abuse, academic failure and school dropout, and unmarried teen pregnancy and childbearing. The United States experiences increased costs in education, healthcare, mental health and the administration of justice."
Every moral decision has consequences in the "real world" as well as eternal consequences. You may or may not remember that a couple of years ago it was reported that a study by the Institute for American Values, the Institute for Marriage and Public Policy, the Georgia Family Council and Families Northwest found that the breakdown of the family costs our country $112 billion every year.  That's only the monetary cost, not counting the inestimable heartbreak children and young adults go through because we have collectively decided that marriage and family don't matter anymore.
In our drive to have it all and do whatever we want, we have hung out to dry the most vulnerable and helpless members of society: children.  Sometimes the damage comes from the attack on marriage and family from the Left: radical feminism, promotion of homosexuality, sexual autonomy, etc.  Sometimes we simply put ourselves ahead of our children:  we want a sexual thrill…and end up producing a human being, we want all the material goodies and shove our children into daycare or some other facility for 8+ hours a day, we find a new person who thrills us more than the one we have and so we tear our family apart, etc.
We simply have to stop acquiescing to our self-centered culture.  We have to draw a line in the sand with ourselves first, pledging to be responsible even if it's tough.  We also have to stop pretending it's okay when others in our social circle and in society do it.
There are plenty of selfish people in society who flatly aren't interested in doing what's best for anyone other than themselves and their immediate felt "needs."  It will be up to those who understand what's at stake to exert the social pressure necessary to turn this destructive trend around.
Are you willing to step into the gap for the children and families of America?
Press Conference on the Release of the Index of Belonging and Rejection