Archive for November 25th, 2010
A thanksgiving and prayer proclamation from America's first President George Washington, fulfilling the duty of all nations to acknowledge the providence of Almighty God, grateful for His benefits and imploring His protection and favor on our nation (still).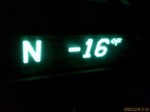 Sometimes we forget to be thankful on Thanksgiving Day. Other times, it can actually be difficult to be thankful because of adversity. Yet even then, if we refuse to give in to fear, we can realize that we have much to be thankful for. Especially if we know the One to whom we are thankful.