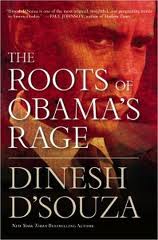 Author Dinesh D'Souza has a new book out entitled The Roots of Obama's Rage.
In brief, the book is about Barack Obama's youth and formative experiences that ideologically made him the man he is today. You may recall a recent column by D'Souza which provided just a teaser of what may be found in the book.
This series of videos (below) made by D'Souza provide some glimpses of what you'll find in the book. Like D'Souza, Obama lived a great deal of his life off the U.S. mainland–even in foreign countries. D'Souza grew up in India and came to the States when he was 17. Both of them are about the same age, graduated college the same year and married in the same year. (I would add that while D'Souza lived in a completely different country for his first 17 years, he has a fantastically greater grasp of and appreciation for what America is than does Obama.)
He tells an interesting story that happened during the campaign. D'Souza found out that Barack Obama's brother George was living in a hut in Africa, in abject poverty.  D'Souza raised some money to help George Obama (Barack wasn't), but the campaign caught wind of that and convinced his brother to reject the voluntary financial aid.  If George Obama has been living in a simple hut, is Barack Obama his brother's keeper?
D'Souza says Obama has been the most successful Leftist since President Lyndon Johnson, and maybe FDR, in pushing a radical agenda of socialist encroachment on the American way of life.
From chapter 2, D'Souza points out that Obama is one of the least-known-about presidents in history, shooting up quickly in politics in Illinois, then the U.S. Senate, and then another quick jump to the White House.  He says that while Obama does some socialist things, he believes there is something else going on with Obama, perhaps something that drives this Marxist tendency he has.
D'Souza tries to find out what Obama's dream really is. Is it the American dream, Martin Luther King Jr's dream, or something else?  Obama definitely rejects the American dream and the American way of life.  He also has done little or nothing to advance a color-blind society, but rather seems obsessed on some level with skin color. No, as Obama's book indicates, he got his dream from his father.
D'Souza reminds us that although Obama credits his dream to his father, his father abandoned him when he was very young.  Obama's father was idolized by his mother in the form of statements and stories about his father.  His father, who was from the British colony of Kenya, was an anticolonialist. D'Souza himself was exposed to this in India; his father and grandfather were anticolonialists from that former British colony. Obama's father was one of the first Africans after colonialism selected to go to America to study and come back to help the newly independent Kenya. Obama Sr. was a flawed individual: a drunk, a wife-beater, had four wives and eight children. But Obama saw his father as a liberator of his country from Western oppression.
D'Souza makes a shocking statement with which I cannot disagree: "We are living now with the consequences of the ideology developed by an African tribesman in Kenya in the 1950s."
Another concept of anticolonialism is that the baton of world oppression has passed from Europe to America, and America is now the great evil in the world.
D'Souza believes his theory of Obama's motivation by anticolonialism explains Obama's peculiar foreign policy and economic policy, and also other smaller issues.  For instance, when Obama first came to the White House, he noticed a small statue of Winston Churchill that had been a gift from Britain to America.  He sent it back to the British. Americans see Churchill as the man who fought the Nazis, but anticolonialists see him as continuing the oppression of the colonies.
He also examine's Obama's tax and spend policies. Obama has run up tabs into the TRILLIONS and expects "the rich" to pay it.  This class-envy attitude of course ignores the fact that we already have a Marxist progressive taxation scheme that has the wealthy paying a far greater portion of the total taxes than they should under a fair system. When you look at a paper called "Problems Facing Our Socialism" written by Obama Sr. in 1965 in the East Africa Journal, you see this same rich-hating sentiment.  It advocates the government seizure of property and no upper limit to taxes on those who are believed to "have too much."
Another example is that President Obama now favors offshore drilling…for Brazil–not for his own country.
D'Souza believes Obama is engaged in an effort to "tame the rogue elephant," and America is that elephant in his mind. When Scotland proposed to release the Lockerbie bomber, Obama protested publicly…but a private letter was obtained which was sent from the Administration to Scotland which indicated Obama really had no problem with the release.
In the end, for Obama, it's about leveling the world playing field, and in his mind, America has far too much advantage.  America must be humbled.  America must be brought low and the rest of the world elevated.  It's D'Souza's theory…and it matches the evidence darned well.
D'Souza tells a lot in these videos…but it's almost like pretzels in a bar, making you thirsty to get his book and read it right away.
Introduction

Chapter 2

Chapter 3

Chapter 4

Chapter 8

Chapter 9