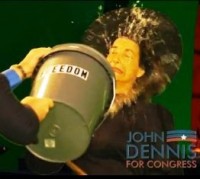 John Dennis his here to throw a bucket of freedom on the Wicked Witch of the West Coast, Nancy Pelosi.  This will cause her to melt and set free those who have been trapped in her shadow of taxes and freedom-robbing socialism
Will Rep. Stephanie Herseth Sandlin (D-SD) attempt to come to her aid and save her from freedom? I guess we'll have to tune in for another episode to find out.
---
Try us out at the new location:

American Clarion

!
---