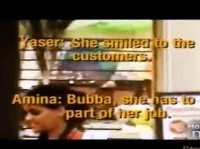 If you've been following current events very closely for the past several years, you might be aware that Muslim "honor killings" are not just something that occurs in Middle Eastern countries.  It happens right here in the United States.  It doesn't happen a lot, and the "mainstream" media is usually pretty hushed about it, but it is happening in frightening numbers, and you can find out about it if you look hard enough.
Even the case of Rifqa Bary, the girl who ran away from home because she feared for her life after converting to Christianity, was more visible on the current events scene, but you'd have to really look for information about it.
The attention level is beginning to change, however, and hopefully that will be a good thing for America.  That is because radical Muslims, after a Western society has become "tolerant" of their more extreme beliefs, usually demands the recognition of Muslim practices such as Sharia Law.  We don't need Sharai law or honor killings in America.
You'll see in the first video below a brief expose about the honor killing of two sisters in Texas, Sarah Yaser Said, 17, and Amina Yaser Said, 18, in 2008.
The next videos are a longer expose on this case and on Muslim honor killing in America.
It's time America opened her collective eyes to radical Islam (especially radical Islam's inroads in America) and put an end to the moral dereliction being carried out under the excuse of "tolerance."
Our freedoms–and our lives–are on the line.
Muslim Honor Killing Of Two Teen Girls

Part 1 – Honor Killing In America

Part 2 – Honor Killing In America

Part 3 – Honor Killing In America