AT ISSUE: Whether it was a forum or a debate between the major candidates, there is little question that ethanol is definitely a political campaign issue this year in South Dakota. Whether your major interest is in the state's gubernatorial race or the contest for South Dakota's lone seat in Congress, the gasoline alternate issue smacks up front with the state's five candidates.
AS THE CANDIDATES for Governor and for South Dakota's lone seat in the U.S. House of Representatives debate the issues on their way to this fall's General Election, a leading product of our state, ethanol, is an up front subject we are bound to hear more about before November 2.
In the congressional race between Republican Kristi Noem, Democrat Stephanie Herseth Sandlin and Independent B. Thomas Marking the voters need to know how they stand on the two main ethanol subsidies that are scheduled to expire at the end of the year: a tax credit for blending ethanol with gasoline and an import tax on foreign ethanol, particularly Brazilian sugar cane ethanol. Should these subsidies die or shouldn't they? Where do the candidates stand?
In the game for Governor between Republican Dennis Daugaard and Democrat Scot Heidepriem, they already are combatting over the blender pump controversy of two years ago.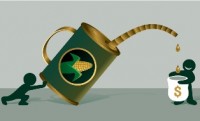 Both candidates contend they are prime promoters of ethanol, as well they should be, but Heidepriem wants an ethanol tax noose around Daugaard's neck in fear he'll only continue the ethanol policies of the Rounds administration. Not only does Daugaard, also South Dakota's Lt. Governor, repudiate the charge, in his emphasis of his support of ethanol, he says he is not only his own man, but does not publicly disagree with his boss. In other words, he will do things differently when he is Governor.
Palace has memories
The World's Only Corn Palace in Mitchell has just completed its annual festival 2010 style. Was last week's show the beginning of the end of the festival in its nearly 90-year-old building?
According to a recent Associated Press news release, talk is developing to construct a new, larger Corn Palace.
A Mitchell Chamber of Commerce report notes that the present structure needs to be replaced within the next 20 years or risk a further dip in visitor numbers. It also noted "a new, larger one is needed to preserve Mitchell's history as a tourist destination… People's tastes have changed as today they just don't want to 'see' places, they want to 'experience' the destination, which creates a unique personal memory they can cherish forever. While traveler tastes have changed over the years, the current Corn Palace has not adapted to meet their expectations," the report said.
Speaking of memories, most of us who have ever attended a show or a basketball game at the Corn Palace should have a batch of them. Growing up down the road a piece we looked forward to the annual festival with its midway and, especially the talent the Mitchell folks brought to town. How can any of us ever forget the "Big Bands," Lawrence Welk, Tommy Dorsey, Duke Ellington, Frankie Carl, Harry James and even Spike Jones oh, the list goes on and on. If that old building could write a book, it would be on the best seller list.
It has been a while since I visited the Corn Palace and I must admit the old gal was already starting to show her age. But whatever the Mitchell folks decide to do won't erase those wonderful memories of the past.
A Flashback
The story of the recent death of former U.S. House member Dan Rostenkowski of Chicago caused me to have a flashback to several years ago when I attended a national newspaper conference in that "Windy City." Rostenkowski was the noon luncheon speaker and during the meal I was assigned the seat next to him.
Now, Rostenkowski isn't exactly a household word in South Dakota, but when he was in his prime during his more than 30 years in Congress he brought millions and millions of dollars to Chicago–one way or another. A Washington grand jury charged him with 17 counts of corruption–misusing government and campaign funds.
When he made his speech to us he had just been released after almost a year and a half in a federal prison.
I don't remember a word of his speech, but listening to him at the luncheon table we got pretty well fed up with his bragging about his illegal exploits. He admitted hiring people on his congressional payroll who did little or no official work. They took care of his lawn, took photos at political events and family weddings, helped in his family's business and supervised the renovation of his house.
In the story of his death at 82, Rostenkowski was afraid his epitaph would read, "Rostenkowski, felon." He would have rather wished it would say, "He wrote good law." However good the laws are he pushed can't trump his criminal past, at least in my book….
Gordon Garnos was long-time editor of the Watertown Public Opinion, retiring after 39 years with that newspaper. Garnos, a lifelong resident of South Dakota except for his military service in the U.S. Air Force, was born and raised in Presho.