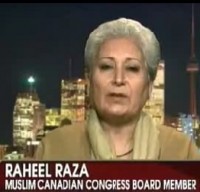 It's extremely rare that you'll see a Muslim condemn anything done by another Muslim, up to and including acts of terrorism, so Raheel Raza's recent column in the Ottowa Citizen is noteworthy for that reason alone.
But she also seems to recognize something a number of non-Muslims like New York Mayor Michael Bloomberg don't get:  the proposed mosque at Ground Zero in New York City is a deliberate poke in the eye of America.
From her recent article:
When we try to understand the reasoning behind building a mosque at the epicentre of the worst-ever attack on the U.S., we wonder why its proponents don't build a monument to those who died in the attack?

New York currently boasts at least 30 mosques so it's not as if there is pressing need to find space for worshippers. The fact we Muslims know the idea behind the Ground Zero mosque is meant to be a deliberate provocation to thumb our noses at the infidel.
I commend Raza for her honesty, even if she doesn't accept where the teachings of her religion lead.  It is true that there are plenty of moderate Muslims across the world who aren't interested in flying airplanes into skyscrapers or blowing up civilians for Allah, but ideas have consequences and Islam is at its doctrinal core a very aggressive, violent religion. That some Muslims are the equivalent of the "cultural Christian" (who identifies with Christianity but never allows the teachings of Christ to impact the way they live their lives) does nothing to change the fact that there are millions of Muslims who consider it their religious duty to slaughter resistant infidels.
Nevertheless, Raza is spot-on in her indictment of this deliberate attempt to insult Americans in New York City. She points out that there are many better ways to "reach out" and "bring people together" and "help the healing process" than this crass act.
Do they not understand that building a mosque at Ground Zero is equivalent to permitting a Serbian Orthodox church near the killing fields of Srebrenica where 8,000 Muslim men and boys were slaughtered?
It would be nice if some of America's leaders like Bloomberg could follow her lead and get a clue.