Archive for August 24th, 2010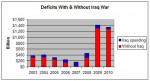 We hear this blather from the Left rolled out repeatedly in cycles, the lamentations that the United States is supposedly going broke because of the gargantuan amounts of money we spend on defense. Yet when we compare this small amount to the trillions being spent without constitutional authority on social programs, it quickly becomes painfully obvious where spending really needs to be cut.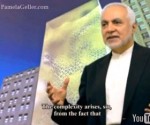 The man pushing the Ground Zero Victory Mosque, Imam Faisal Rauf, is supposed to be a "moderate" Muslim, right? We already knew that was bunk (if we were awake, that is), but he keeps getting deeper in it as more of his radical comments come to light. For instance, his claim that the US has more blood on its hands than al-Qaeda, and his casual use of the N-word.