AT ISSUE: Sunday was known as the Fourth of July, or July Fourth, but did anyone address the occasion as Independence Day in celebration of July 4, 1776, when the members of the Second Continental Congress unanimously declared its separation from England. The day has been celebrated every year since then from the original 13 states to what we have today. As one walks through the calendar there are various honored days. Some of them are to be celebrated, like the 4th of July, and some of them are to be observed, like Memorial Day. There is a difference. But there is no day set aside to observe or celebrate a Constitution Day that I know of. Perhaps if we had a Constitution Day more Americans would pay attention to what it says and maybe fewer people would quit trying to twist it to meet their own goals.
HISTORY TELLS US that the American Revolutionary War started April 19, 1775, and Independence Day followed on July 4, 1776. But it wasn't until 1789 when our nation's Constitution was established that, in effect, put our Declaration of Independence to work. Yes, there is a Bill of Rights Day on Dec. 15. On Sept. 25, 1789, Congress approved 12 amendments to the U.S. Constitution and sent them to the states for ratification, but it wasn't until Dec. 15, 1791, when 10 of the 12 were ratified and Virginia ratified the Bill of rights.
So, the calender marks off each Dec. 15 as our Bill of Rights Day, but there is no Constitution Day and there should be.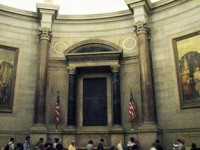 It could be May 25 when in 1787 the Constitutional Convention opened with a quorum of seven states in Philadelphia to discuss revising the Articles of Confederation. A side bar here was eventually, all the states except Rhode Island were represented at the convention.
Or, it could be the following Sept. 17, for on that date all 12 state delegations approved the Constitution and signed it. Thirty Nine delegates of the 42 present and the convention formally adjourned.
Or, it could be on June 21, for on that date in 1788 was when the Constitution became effective after New Hampshire was the ninth state to ratify the Constitution.
ACCORDING TO the calendar our nation is well covered with special national days ‹ from Robert E. Lee Day on Jan. 19 to the Bill of Rights Day Dec. 15. And this doesn't even consider the several special religious days like Easter and Christmas. There's Martin Luther King Jr. Day (Jan. 18), Washington's Birthday (Feb. 15), National Day of Prayer (May 6), Woman Suffrage Day (Aug. 26) and Citizenship Day (Sept. 17), just to name a few.
And we haven't even got around to such special days as St. Jean-Baptiste Day, Mothers Day, Fathers Day and Grandparents Day, and not to mention Leif Erickson Day. But so much for dates and places.
In researching our nation's Constitution I discovered some interesting tidbits that for at least those of us interested in American history find fascinating.
FOR EXAMPLE, our Constitution has 4,440 words. It is the oldest and the shortest written constitution of any government in the world. It is the greatest legal document ever written. It is the most influential legal document in existence and since its creation more than 200 years ago more than 100 countries around the world have used it as a model for their own.
Thomas Jefferson did not sign the Constitution as he was in France during the convention, where he served as the U.S. minister.
James Madison, "the father of the Constitution," was the first to arrive in Philadelphia for the Constitutional Convention. He arrived in February, three months before the convention started, bearing the blueprint for the new Constitution.
Patrick Henry was elected as a delegate to the convention, but he turned it down because he "smelt a rat."
Benjamin Franklin, because he was in such poor health, needed help to sign the Constitution and as he did, tears steamed down his face. At the age of 81 he was the oldest person to sign the Constitution. The youngest was Jonathan Dayton of New Jersey who was 26 at the time.
CONTRARY TO some critics our U.S. Constitution is a living document It is one of the world's oldest surviving constitutions and while the Supreme Court continually interprets the Constitution its basic tenets have remained virtually unchanged since its inception and unchallenged as well–except until recently….
Gordon Garnos was long-time editor of the Watertown Public Opinion, retiring after 39 years with that newspaper. Garnos, a lifelong resident of South Dakota except for his military service in the U.S. Air Force, was born and raised in Presho.