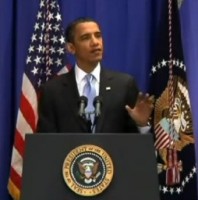 President Obama recently made this statement about Arizona's illegal immigration law, which mirrors federal law:
And it's not just that the law Arizona passed is divisive, although it has fanned the flames of an already contentious debate, laws like Arizona's put huge pressures on local law enforcement to enforce rules that ultimately are unenforceable. It puts pressure on already hard-strapped state and local budgets.
Translation:
Arizona's law is divisive, because we in your federal government refuse to enforce it or federal law. We cannot enforce a law that we don't want to enforce. That would be ludicrious, for us to do what the executive branch exists to do: execute our nation's laws.
It is also divisive. There are many of us who don't want to enforce our nation's laws, so Arizona's law seeks to compel us to do that which we do not want to do. That is, by definition, divisive. It is therefore bad.
It also makes it more difficult for lawbreakers who are in our country illegally to report crime to law enforcement authorities.  They might become entangled in their own lawbreaking, even as they attempt to report lawbreaking by others, and this is unacceptable.  These particular lawbreakers must have the latitude and freedom to report lawbreaking in other–especially legal–residents of our great nation.
Arizona's law would also put pressure on hard-strapped state and local budgets–as well as the federal one. At all levels of government, your leaders are busy wasting your money on "stimulus" items designed to pad our pockets, the pockets of those political supporters who are dear to us, and which advance social programs designed to endear dead-weight voters to vote for us. We simply do not have the money to spend on things our Constitution actually authorizes; there are too many unconstitutional and wasteful things upon which your tax dollars must be spent.
So shut up and like it.