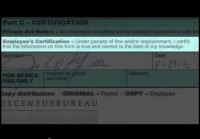 James O'Keefe, a young investigative reporter who has nailed ACORN and was himself stung while trying to sting Senator Mary Landrieu's (D-LA) staff, has once again infiltrated the dirty world of wasted taxpayer dollars at the hands of the federal government.
According to his post at Big Government, this time O'Keefe was legitimately hired as a census worker and found that pay practices were pretty lax.
Employees were instructed to fill out their time sheet forms stating they worked 8:30 am to 12:30 pm and 1:00 pm to 5:00 pm, for a total of 8 hours. However they took 60-70 minute lunch breaks. While in training, they were told they would probably be done at 4:30 pm instead of 5:00 pm.
O'Keefe said his second training day began at 9:00 am and left shortly after 3:30 pm. That's somewhat less than 8 hours of work time…funded by taxpayers like you and me.
His investigation found that census supervisors in New Jersey systematically encouraged employees to commit payroll fraud during their work for the 2010 Census.   O'Keefe not only talked to his immediate supervisor, but other management levels above him.  He expressed repeated concerns about being paid for work he did not do, but all of his supervisors told him not to sweat it. They told him to go ahead and falsify this government document so he could get paid by the taxpayers for work he didn't do.
Peanuts, you might say…especially if you're a liberal who likes spending other people's money. But even some rank-and-file liberals should be able to understand the magnitude of the waste when it's put into context for them, as this Fox News article does:
In O'Keefe's new video, he notes that census employees are subject to fines or imprisonment for falsifying the forms. He calculates that if 600,000 Census employees are paid $18.25 per hour and each of them gets paid an extra four hours, it adds up to $43.8 million in waste. He also argues that if 20 percent of their time is wasted on the job, that's more than $1 trillion in waste.
The 2010 is estimated at $3.5 TRILLION.  That's $3.5 TRILLION of taxpayer money. Have you ever wondered how a federal government theoretically limited by Article 1 Section 8 of the U.S. Constitution to just a few areas of authority could possibly find a way to spend such a gargantuan amount of cash?  Or get $13 TRILLION in debt?
This is part of the answer. In addition to hundreds of billions of dollars spent on unconstitutional social programs, virtually every area of the federal government is certain to perpetrate waste on the scale uncovered by O'Keefe…or far bigger.
During my 10 years in the Air Force, I remember what came around every September as the fiscal year drew to a close.  Personnel in many (most?) squadrons were told to get on over to base supply and buy up anything that might remotely be put to use.  Many a troop got lots of extra pairs of gloves, socks, and so on this way.
Why was this done?  Because if a unit had unused funds at the end of the fiscal year, they were likely to be allocated less funds in the next budget year. Now, if this kind of fiscal irresponsibility went on in an area of the government (defense) that is authorized by the U.S. Constitution, can you imagine the kind of waste that probably goes on in the many areas of the federal government not authorized by the U.S. Constitution?